Top 5 Vintage Baking Recipes
23 Jun 2010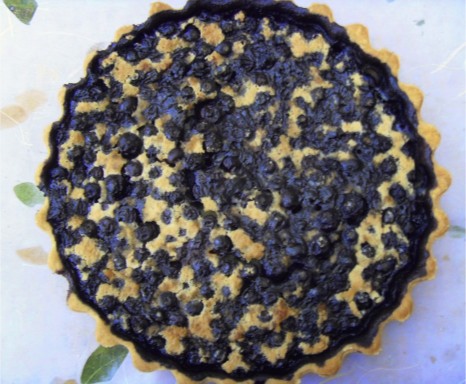 My earliest memories of kitchen is of watching my grandmom cook tirelessly in the poorly lit kitchen using the most basic equipments; in spite of the absence of all the gizmos that we have got so very used to today, she created magic. Recently, I found an old tattered copy of a recipe book, which my grandmom used to refer to; was so enchanted by the techniques and ingredients used I decided at least the top five of the vintage baking recipes had to be shared with the world. However, let me caution that I have had to improvise quite a few steps of these recipes, since many of the techniques mentioned are vintage in the true sense, and trying to duplicate them today is next to impossible.
Chocolate Sundae Pie: This is a pie that looks like chocolate but has no chocolate used in it! You require pie crust, plain gelatin, eggs (white and yolk separated), brown sugar, salt, and milk. First beat the egg yolks lightly, then add sugar and salt gradually, and continue to beat till the eggs are light and fluffy. Heat milk for few minutes and beat in the fluffy egg mixture, cook till the milk thickens. Dissolve gelatin in water, and add it to the milk-egg mixture. Once cooled, add vanilla essence and beat the milk till creamy. Stiffly beat the egg whites and fold it into the milk. Pour the egg-milk mixture onto the pie crust and chill overnight. Your Chocolate Sundae Pie is ready!
Oatmeal cookies: This one comes directly from my grandmom and not the recipe book; I have memorized it through these years. You need equal quantities of fat, brown sugar, and white sugar; eggs, all purpose flour, oats (I use Quaker oats), walnuts, and raisins; along with salt, baking soda, cinnamon powder, and vanilla essence. First cream fat and sugar together then beat in the eggs and all the flavorings. Fold in the flour gradually, once all the flour is incorporated mix the oats, raisin, and chopped walnuts. Drop spoonfuls on a greased cookie sheet and bake at medium heat for 10mins. Cool on a wire rack and serve. This stays well in an air tight container for few weeks.
Blueberry tart: I bet after you taste this tart you will never be able to savor any other form of tarts. This blueberry tart is nothing less than what they might serve you in the heaven! For this you need flour, egg yolk, butter, salt, pinch of sugar, and zest of lemon. Take the flour in a bowl, make a well and add all the ingredients into the well. Mix all the ingredients into the flour and gently work the flour into dough. Add just few drops of ice water if needed (I have never had to add water). Keep covered for an hour and roll out and line a greased and floured pasty tin. Add cleaned blue berries, white sugar and lemon onto the pastry and bake for 10mins at medium heat and remove. Beat one egg yolk and full cream and drop over the berries. Continue to bake for 20 more mins or till done. 
Streusel Ribbon Coffee Cake: First prepare the coffee cake batter, any recipe can be used for this but I like the one list on ifood.tv. Mix brown sugar, butter, cinnamon, bisquick, and chopped nuts for the streusel topping. Pour half the coffee cake batter onto a greased and floured baking dish. Add half the streusel topping over it. Then top it off with rest of the batter and topping layers. Bake this on moderately high temperature for 20 mins or till done.
Cheese Hollow Loaf: With so many sweet variations (my granny sure had a sweet tooth!) I thought of ending this off with a savory version. You need a small crusty loaf, chopped onions, cooked meat, tomato puree, fresh parsley, cheese (I prefer cheddar), milk, butter, salt, and pepper. Remove around 2" of the top of the loaf and scoop out the bread from the center. Retain ¼ of the bread and crumble it. In a sauce pan, heat butter, fry the onions till transparent. Add meat, parsley and tomato puree, cook. Add the bread crumbs, milk, salt, and pepper, and cook till done. Pour this mixture into the hole made in the loaf, sprinkle cheese over it, replace the "top" of the loaf, and wrap it up in an aluminum foil. Bake for 15 to 20 mins in a preheated oven. Remove and cut into 1" slices for serving.
Hope you loved these recipes and would try at least one of them. If you face any difficulties while preparing these do let me know. 
 photo credit: google.com
Top 5 Vintage Baking Recipes