How To Freeze Mashed Cauliflower
28 Feb 2012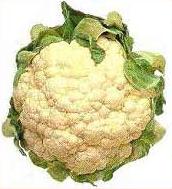 Veggies of all types can be stored by the method of freezing in order to increase their shelf life. Mashed cauliflowers are no exception either. Freezing  cauliflowers in this form increases its shelf life which can then be utilized in a variety of recipes whenever required. Check out this blog to know about the method of freezing mashed cauliflower.
 Freezing Cauliflowers In The Mashed Form
Things Required:
Mashed Cauliflower
Lemon juice
Measuring cups
Ziploc freezer bags
Permanent marker
Directions:
Mix 2-3 teaspoons of lemon juice to the mashed cauliflower in order to avoid discoloration.
Using measuring cups measure and fill the mashed cauliflowers in ziploc freezer bags.
Ensure that there is no air left inside the freezer bag.
Label the bag with the date of storage and quantity of contents in the freezer bag.
Frozen mashed cauliflowers are yummy-tangy (lemon juice contributes this tanginess) foods, which can be used whenever required. Pls try it out and let us know.
Image Credit: en.wikipedia.org ; canyoustayfordinner.com
How To Freeze Mashed Cauliflower