How To Dry Cure Sausage
14 Feb 2012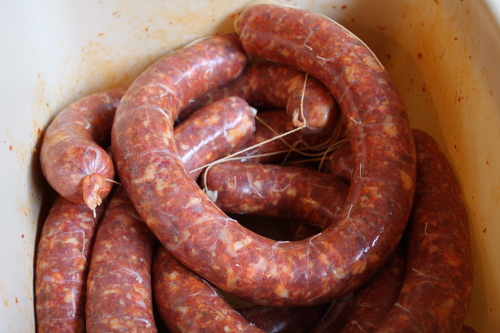 There is nothing like a homemade sausage,  dry cured to perfection, more suitable for gracing your breakfast plate. It is with this thought that you are served this time-tested process of how to dry cure sausages. You can now to do it year after year and teach your children too. After all, the procedure tricks should run in the family.
1) You'll Need
Just like a dry curing process should need, you will require the following things to go with: Meat (of course), meat grinder (Electronic or manual), metal bowls, sausage stuffer (although some people do it with a funnel and thumb), cure (you can make your own or buy store-made), spices (you may choose garlic, wine, hot chili peppers, or dried herbs, depending on the level of heat you want in your sausage), starter culture, and sausage casings.
2) Step 1
You should make sure that you have your spices, cure, herbs, etc, ready before you begin to grind the meat. All the seasonings, except for salt, should be ground beforehand and kept handy.
3) Step 2
First of all take fat and using a meat grinder, grind it into a metal bowl and refrigerate it. Then, take cold meat and grind it too before storing it in a metal bowl as well.
4) Step 3
Take out the fat and mix it into meat along with all the other ingredients. Although doing it in the electric hand mixer is easier and gives you a fine sausage but old timers say there is nothing like getting down and dirty with your own hands. Meanwhile, dissolve the starter culture in water and then mix it into the meat mixture. However, take care not to mix fat and meet for too long. After this, put the mixture back into the refrigerator.
5) Step 4
In case you are using man-made casings, you do not need any preparation but in case of natural casings, you may need to soak them in water before those are ready to be used.
6) Step 5
Start stuffing the meat into the casing, using a sausage stuffer or with the funnel. You have to put the casing end over the stuffing horn in your direction while leaving some of the casing hanging over at the end. Also, don't let the casing dry up during the filling process. Also do not leave any air bubbles inside or you will have grease buildup in the sausage. In case you find air pockets somewhere on the sausage, just pop them with a knife tip. Also do not overstuff the casing, or it will burst at a later stage of handling.
7) Step 6
Just hang the sausage to dry, preferably at around 32 degrees C up to a month or so. The signs to look out for are that the white mold should grow on the casing and the water starts dripping out of the sausage. Both these signs mean that the drying fermentation process is complete. After about a month or 35 days, the sausage should be stored at a room temperature and don't refrigerate it.
It is a delight to eat sausages at breakfast, lunch, and dinner and what could be better than a piece of home-cured sausage, ham or bacon? Just pick up a sausage, remove the casing, and slice it open and it is ready to eat. You can try these healthy sausage meals with the home-cured sausages. Your family is sure to love them.
Image Courtesy: calabriafromscratch.com
How To Dry Cure Sausage