How To Store Peeled Pumpkin

10 Feb 2012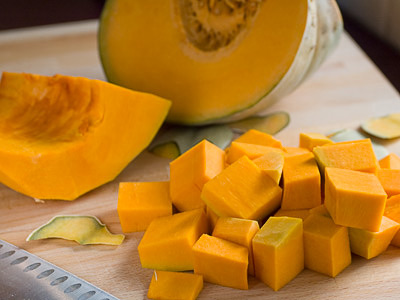 There is a difference between storing peeled and un-peeled pumpkin. The unpeeled ones can stay fresh for at least 3 months but if you  peel them, you need to take special care or they will not be fit for use after a few months. Here are a few ideas on how you can keep this peeled vegetable fresh for long.
Ideas to keep peeled pumpkin fresh:
Refrigeration:
Slice up the peeled vegetable and store in containers in the refrigerator, till you use it again. This is recommended if you desire to keep them for a few days or hours only.  If you have a whole pumpkin you can wrap it up in a wet cloth and keep it in the refrigerator – it might take up a lot of space, but it shall stay fresh.
Dry corner:
Place the peeled vegetable in the dry corner of your storing area. It is best if you can store it in a single layer, so that the vegetable gets little bit of breathing space underneath it. You can use a wood, straw or a cardboard between the table or storing surface.
More tips:
When you are storing pumpkins, it is important to keep checking them at equal intervals, especially when you are not refrigerating it.
If you are keeping them in the kitchen, you need to keep a watch on mice as they love pumpkin.
The above tips, if followed will help you to keep the peeled pumpkin  fresh until you need them!
Image credits: hsaba
How To Store Peeled Pumpkin