How To Store Peeled Cucumber

3 Feb 2012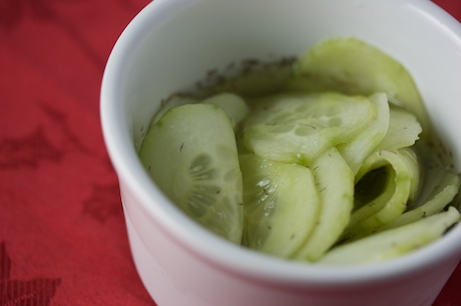 Cucumber is often peeled in advance for preparing salads and for use in other recipes. At the same time, peeled cucumber often gets wasted, when we do not know the right process of storing them. They tend to become soggy and often get spoilt when not kept properly. Here are some quick storing ideas for the salad fruit.
Peeled cucumber storing ideas :
Paper towels:
Use a paper towel to wrap peeled cucumber whenever you need to store it. This wrapped cucumber, can then be stored in a plastic bag and refrigerated. It works like a magic and will let the cucumber stay fresh for nearly 7 days.
Air-tight containers:
Place all the cucumbers in a container and seal it well. This container can then be placed in the refrigerator. It shall stay fresh for at least 3 days.
Zip bags:
Use these specially designed bags to keep cucumber fresh  for long. It is very simple – just put the cucumber in the bag, seal it and put it in the refrigerator. It will stay fresh and be just as you wish, the next time you choose to have it.
Use your stored cucumber within 2-3 days to enjoy its taste or it might lose its crispiness. Enjoy!
Image credits: bigflavors 
How To Store Peeled Cucumber