How To Store Peeled Apples

26 Jan 2012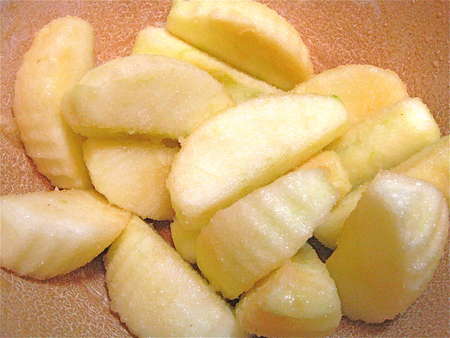 If you plan to preserve peeled apples you will have to understand that the foremost thing  to do is to keep them in an atmosphere devoid of oxygen. Most chefs prefer to apply an acid based anti-browning agent. Here are some easy ideas:
Tips to store apples:
Lemon Juice:
·        Lemon juice along with cold water can be mixed together and placed in an airtight container. Each piece of apple needs to be placed in this mixture of lemon juice. The apples might come upwards – you can use a plate so that all the apples are well submerged in the water. The food container can then be sealed and placed in the refrigerator. It is best to use the apples in the next 24 hours.
Ascorbic Acid:
·        Another good way of storing is by mixing ascorbic acid crystals in cold water. The apples need to be submerged in the liquid and placed in a food container and refrigerated. The peeled apples shall remain fresh.
Crushed Vitamin C Tablets:
·        This is a very interesting way to store peeled apples for long.  You just need to crush at least three 500 mg vitamin C tablets. The tablets need to have a very fine consistency – crush them using a pestle or mortar. This crushed vitamin C powder can be mixed with cold water and then poured in a food container. Each piece of the apple needs to be placed in the mixture of vitamin C just after. A plate can be placed on the apples and the food container covered and stored in refrigerator.
However, it is best to use the peeled apples within 3 days in order to derive the maximum benefit from this nutritious fruit. 
Image credits: kingarthurflour
How To Store Peeled Apples