How to store Fresh Fish in Freezer?
29 Dec 2008
It is always good to have fresh fish to buy, cook and eat. Sometimes, we buy more than what we actually need. To use the remaining one, we would like to store it. How to do this storing in the freezer is a major question.
A simple solution to this is to have it inside the freezer. If we take little precaution, we can get good result out of it.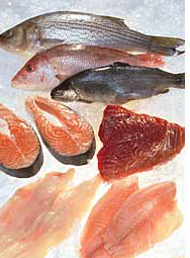 Picture Cortesy: www.heb.com
Clean the fish properly using running water. After this, wipe the fish. Wrap the clean fish with a wrapper and put it in an air tight container. Now you can keep the fish in freezer with temprature in the range of 1-2 degree celcius. Try to do this as soon as possible if fish is not to be eaten immediately.
Guess the advantage: The frozen status of the fish does not let harmful bacteria spoil the fish.
 Alternatively, this one can also be tried. Clean the fish. Place it in a tray of water and freeze it. When you want to use the frozen fish, thaw it in milk. This will draw the fishy taste and adds that fresh caught flavour. 
Next time, when you buy extra fish, dont worry about its proper storage. Try any of these methods. You will surely get the fresh flavour.
How To Store Fresh Fish In Freezer?