How To Freeze Cooked Crab

7 Sep 2011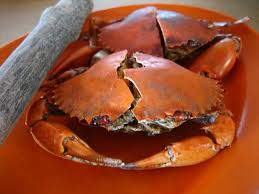 Freeze cooked crab meat since this is the best way to preserve it for use later. Moreover, raw crab meat can lose its color and texture after being frozen. Cooked crab freezes well with minimum loss of taste and it is definitely one of the best ways to enjoy this seafood specialty more often in your daily diet. Let us see the steps involved in freezing cooked crab…
Steps to Freeze Cooked Crab
Cook live crabs in boiling water for 25 to 30 minutes.
Cool the crabs under running water and pat dry on paper towels.
Now, it is time for cleaning the crab and separating the meat from the shell. Pull of the shell, gills, stomach and discard.
Throw away the mouth and flap too.
Halve the body of crab and rinse with cold water.
Crabs can be frozen in the shell or after separating meat from it.
Separate crabmeat and wash well. A mallet might be required to break open the claws and body.
Wrap crabmeat in vapor proof plastic wrap or high grade aluminum foil.
Place the wrapped meat in zip-lock freezer bags and seal.
Label the bag, wrap it in aluminum foil, and place in freezer.
Freezing cooked crab allows you the luxury of enjoying them whenever you please as well as surprise your unannounced guests with a special dinner.
Image credit: sarawakiana.blogspot.com/
How To Freeze Cooked Crab