How To Dry Cauliflower

26 Aug 2011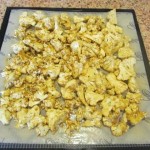 If you know how to dry cauliflower, you can use this versatile vegetable in soups, stews, and sauces even when it is not available at your nearest grocer's shop. Drying cauliflower follows similar steps as drying any vegetable. Let us see how to dry cauliflower easily at home…
Dry Cauliflower in a Dehydrator
Get fresh cauliflower from market or pick fresh ones from garden.
Cut and clean cauliflower. Make sure the cut pieces are uniform in size for even drying or dehydration.
Put the pieces of cauliflower in boiling water for 5 minutes and then transfer to iced water for blanching.
Load cauliflower onto dehydrator trays. Make sure that cauliflower pieces do not overlap or touch each other.
Switch on the dehydrator and set temperature and recommended timing. Usually drying cauliflower would take anywhere between 8 to 12 hours.
Check cauliflower for dryness. Take one of the pieces and after it is cool, it should be dry to touch.  If you see that, check other pieces for moisture. If the pieces are dry, the process is complete.
Return to dehydrator if moisture beads are present when cauliflower is cut.
Store dried cauliflower in paper packets.
Dry Cauliflower by Sun Drying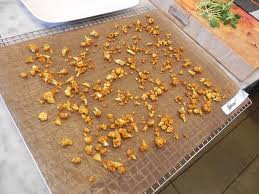 Cauliflower can be sundried too. Prepare cauliflower as mentioned in steps 1 to 3 in the previous point. Now spread the cauliflower pieces onto trays and place these trays in direct sunlight. Keep trays tilted to ensure adequate and continuous air circulation. Cauliflowers would take about 3 to 5 days to completely dry. Check for dryness as given in steps 6 and 7. In this step, you, however, have to take care that the pieces are protected from dust, sudden gusts of wind or rain.
Drying Cauliflower in Oven
Prepare cauliflower as in steps 1 to 3 in the first point. Place them on baking trays and put in an oven pre-heated to 150 degrees F. Switch off the oven and keep the door open to allow circulation of air. Let cauliflower dry for about 8 hours. Check for dryness prior to packing.
Cauliflower can be seasoned with desired spices after pre-treatment and then dried for a delicious dried product. Store dry cauliflower and use it as and when required.
Image credit: fromgreytogreen.co.nz/ ; almostveganchef.com/
How To Dry Cauliflower