How To Dry Onion

25 Aug 2011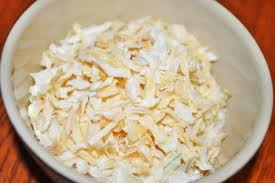 How to dry onion so as to use it at a much later date. Drying onions is by far the best way to preserve and store it. Onions can be dried at home in the oven, under the sun or in dehydrator. These are the methods that can be easily followed to dry onions at home. Let us together take a look at these onion drying processes…
Dry Onions in Dehydrator or Oven
Peel the onions and chop them into slices or fine pieces.
Place these chopped onions in single layer on tray.
Dry the onions in oven at 120 degrees F for 24 to 30 hours.
Every 8 hour, turn the trays for facilitating even drying.
Onions are dry and ready to be stored when they become brittle.
Dry onions in dehydrator according to manufacturer's instructions.
Drying Onions under the Sun
Follow steps 1 to 3 in the above section.
Place trays containing chopped or sliced onions in a warm and sunny place.
Dry onions for 2 to 3 days until they become brittle and papery.
Do not forget to take the trays inside every night lest moisture dampen them.                                                                                 
Shift onions to ensure even drying.
Soilman Onion Preservation Process (Unpatented)                    
Pull the freshly sprouted onions from the ground.
Pile them in heaps under plastic or glass for about 10 days.
Once stems dry up and shrink, cut it off above the bulb.
Let onions stand for another 30 days. They would be dry by the end of this time period.
Peel away all loose papery skin.
Store dry onions in mesh bags.
Hang bags from ceiling in a cool and dark place.
Dry onions are ideal to use while camping or hiking. They can be stored in kitchen and used instead of fresh onions.
Image credit: jeenaskitchen.blogspot.com/ ; sallygardens.typepad.com/
How To Dry Onion