How To Dry Pasta

23 Aug 2011
How to dry pasta can be quite a tricky question. Drying pasta is the perfect way to keep it free from spoilage when storing it at home.All individuals who use fresh homemade pasta should know a few ways to  store it for later use. Let us explore the various methods of drying pasta…
Dry Pasta Prior to Cutting
Roll out pasta dough on a non-sticky work surface.
Allow to dry for 15 minutes.
It is better not to let pasta dry completely before cutting, since very dry pasta might crack while being cut. Similarly, while making stuffed pasta it is better to let pasta remain pliable.
Drying Pasta Prior to Cooking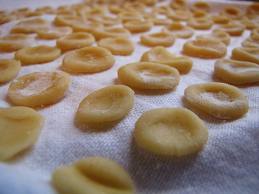 Cut pasta into desired shapes.
Place on floured surface.
Allow to dry for 15 minutes.
Semi drying of pasta would make it firm enough to hold their shapes and less sticky while being cooked. Clumping on cooking can also be avoided by this method.
Pasta Dried Prior to Storage
Homemade fresh pasta can be dried and stored at room temperature.
Place shaped pasta on floured surface without touching each other.
If drying pasta noodles, lay out on floured work surface. Strands should not touch each other. Alternatively, they can be hung on drying racks.
Long pasta noodles like tagliatelle, tagliarini, angel hair, etc can be dried by wrapping into a nest too. Turn over pasta nests to facilitate complete drying.
Let pasta of all types, dry for more than one hour. Long pasta may take hours or even days to dry.
Once dried, they should be brittle and crisp.
Store them in airtight containers at room temperature for several months.
Alternately, place them in sealable bags and place in refrigerator. Consume frozen pasta within three months.
Armed with the knowledge of drying pasta in so many ways, I am sure making pasta at home is going to be an easy chore for you now.
Image credit: pozzafoods.com.  ; ketchuptochutney.wordpress.com/ ; theconnectivoresdilemma.wordpress.com/
How To Dry Pasta