How To Store Crab

6 May 2011
How to store crab? This is bit tweaked question, but carries some straight forward nifty tips on storing crabs. Crabs are popular part of many, Mexican, and Mediterranean cuisine. Being the oldest water resident, crabs prefer moist environment to thrive. It is of utmost importance that while preserving and storing crabs, one must store it in the simulated environment of water. The best tasting crabs are those which were kept alive for some time, and instantly used in cooking. It may not be a good idea, to keep your crabs dead for long before cooking. Commercially, crabs are available in choices of raw, cooked, frozen, and canned types. Let us drive down to the road of crabs for some quick tips on their storage.
General Storage Tips
Crabs are water animals, and therefore, after picking your fresh crabs, you should always keep them saturated with water. Crabs should be plunged in bucket full of cold water. Keep changing the water every once in a while, as water gets murky with every passage of day.
Crab meat is most delicate when it comes to storage. All the sea foods must be stored in water which has salt content that is saline water. So, keep crab meat hydrated in saline water, and 2 hours before cooking, make sure to dry it thoroughly. This process also keeps any microbial contamination to affect your meat.
Hard-Shelled
Hard- shelled crab keeps well for three months if properly stored in freezer, with wrapper. Hard shelled crabs can be either kept alive or cut into chunks of meat pieces before popping them into freezer.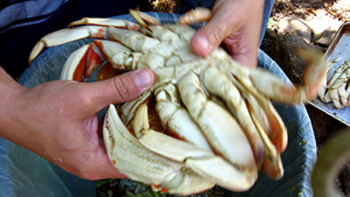 Clean the claws, and body, wrap them into paper towels which have been previously soaked in sea water. Slip them into plastic bags and set them into freezer.
Remove the yellow mustard content, which are generally found inside the body of crabs. This if not done, may increase the spoilage chances of crab meat, as; sea food has the obnoxious smell on rotting.
Blue Crab Storage
These are most sophisticated version of crab. They are not to be stored directly in water; they die, by suffocation this way.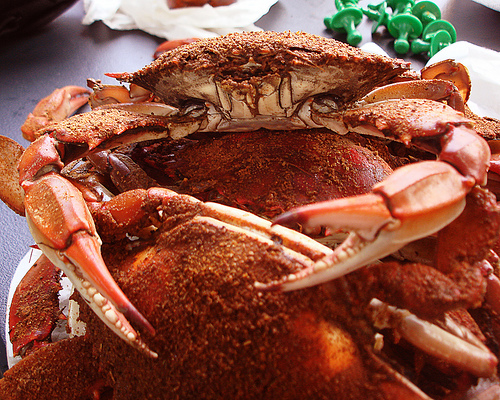 It would be a better idea to store them in a container, which has been layered with ice at the bottom. If ice, melts, drain it away, and add another lot.  Blue crabs are to be finally stored in moist freezer bags or containers.
Frozen Crab Storage
You can freeze crab at 35 degree F, or keep it at 45 degree F in refrigerator. Special sea food storage bags are preferably used to keep them fresh without losing taste.
Canned Crab Storage
Canned crab is stored for some time in container full of ice or chilled water. Thaw it at room temperature, thereafter, and finally place it in freezer. They keep for 4- 5 days in this way.
These are some of quick tips on how to store crab, and enjoy the yummy crab meat recipes!
Image credit: ifood.tv
How To Store Crab