How To Can Pineapple

28 Apr 2011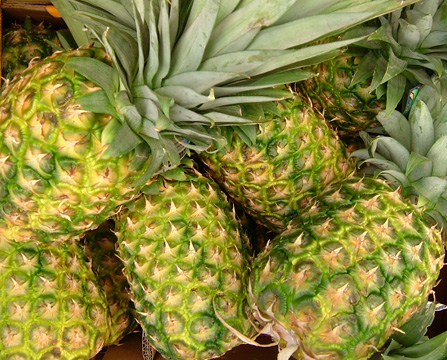 How to can pineapple is a tricky question; before canning pineapple one may consider the utility of canning the fruit; pineapple is a wonderful tasty seasonal fruit with lots of health benefits. It is a great storing item for making delicious jam, fruit salad and as the fruit is not available year around, canning is the most trusted way to preserve the same.
Before come to the canning process two issues have to be taken in serious consideration.
These two issues are
Selection of quality pineapple
Proper sterilization of the jars for fruit preservation
It is always wise to select sweet taste, matured pine apple for canning; matured pineapple offers longer shelf life and at the same time is loaded with several health benefits.
Sterilizing jars and lids
The jars are required to be washed with lukewarm soapy water; dishwasher with sanitize button may also serve the purpose of cleaning the jars for canning. Proper sterilization of jars is one of the vital issues of how to can pineapple preservation process.
Put the jars into boiling water and boil them for 10-15 minutes. Keep the boiling pot in closed lid condition; take out the jars for canning when your pineapple is ready for canning.
The lids of the jars are to be sterilized separately. Allow the lids to get boiled in boiling water for 10 minutes. Leave the lids into the boiling water, in lid on condition.
Preparing fruits for canning
Wash the fruit, remove the skin, and cut off the tough parts and the eyes.
Cop the fruit into even slices.
Make the sugar syrup mixing sugar and boiling water and boil the mixture for 10 minutes against slow heat; the density of the sugar syrup should be same. Instead of sugar syrup, maple syrup can also be used.
After putting the slices pineapple in the jars, add sugar syrup on it. Leave one inch place free in every jar.
Seal the jars with sterilized lids.
Use the pressure canner and process the jars inside the pressure canner for 15 minutes, at 212 degree F.
After 15 minutes bring out the jars and allow them to settle before you store them in a cool dry place at the safest corner of your storage.
Now that you know how to can pineapple, next time you want to can, follow them.
image credit: ifood.tv 
How To Can Pineapple