How To Store Ginger

26 Apr 2011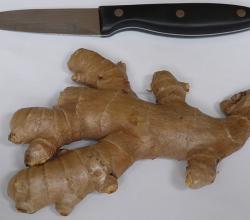 Being a healthy rhizome and an essential ingredient of numerous Asian and Mexican dishes, knowing how to store ginger will be handy.  Ginger is aromatic rhizome belonging to the family of zinziber. Ginger is famous for adding spice, zing, and flavor to the dish. It has medicinal, religious and taste enhancing uses to its credit. You can have many derivations of gingerly flavor as ginger tea, ginger ale, ginger cookies, and pies. Well, the most touted question which sneers the home makers is how to store ginger for everlasting aroma and freshness. So let us steer down and discover some well tested solutions for it.
Ways Of Storing Ginger
Ginger is marketed as dry root which is slightly firm and juicy from inside. Before you embark on the venture of storing your most loved spice, you must buy handpicked ginger from grocery. Maintain the fact that fresher the ginger variety, longer will it adore your kitchen shelf, and better will it spice up your food.
You can choose to store ginger either in refrigerator, in freezer or at room temperature.
If you are buying fresh golden yellow ginger roots, then do not keep them in refrigerator immediately. Let them sit at room temperature in separate ginger basket. '
Ginger can be grated, peeled, sliced, or cut into chunks for usage. After using the root, you should slip it into zip lock plastic bags and pop it into freezer. The peeled and sliced ginger parts should never be stored in normal cupboard. This encourages the moldy growth on its surface, making it dry enough for next use.
Ginger stores well if kept into refrigerator without drenching it in water formerly.  water could perforate inside it and may serve as platform for fungus. Always keep ginger dry in refrigerator.
Another method of storing ginger is to cut the ginger in large chunks and keep it in jar with wide mouth. The jar must be evacuated, for any air inlet should be discouraged. This process of storing ginger, keeps it fresh and aromatic for weeks and months.
You can also dry the roots in sun and then powder them to keep it in air tight jars for ginger bread and cookies preparations.
These are some of the tips on how to store ginger, which could help you in adding more flavors to your seasonal dishes.
image credit: ifood.tv  
How To Store Ginger