How To Store Fiddlehead Ferns

24 Apr 2011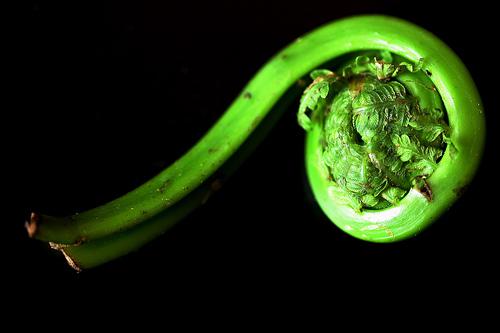 Even though it is advisable to use fresh fiddlehead ferns, you can store fiddlehead ferns for future use also. You need to store fiddlehead ferns at the earliest to prevent them from perishing. Rinse the picked fiddlehead ferns thoroughly with cold water so that all the dirt and grit and any kind of debris is removed completely. Storing fiddlehead ferns is essential to preserve the bright flavor and crispy texture of the plant. Use fiddleheads at the earliest after harvesting them so as to enjoy the best texture and flavor.
Check out how you can store fiddlehead ferns.
Refrigerate
The perishable nature of fiddleheads calls for the need to be refrigerated so as to inhibit the ripening as well as uncurling process. You can wrap the picked and cleaned fiddlehead ferns in a plastic bag. Then allow it to refrigerate for a maximum of 3 days.
Blanch & Store
Yet another way of storing fiddlehead ferns is to blanch them for about 2 to 4 minutes. Once the fiddlehead ferns are blanched, immerse them immediately in water. Drain the excess water and dry the blanched ferns thoroughly. Now wrap it a plastic bag and freeze. While the fresh fiddlehead ferns can be stored for just 3 to 4 days, you can store blanched fiddlehead ferns for a maximum of 9 months.
Store In Vacuum Bags
You may take the help of vacuum plastic bags to store fiddlehead ferns. Fresh fiddlehead ferns, cleaned and dried, when stored using vacuum packed bags, will help to retain the crispiness for a longer period of time. The color and freshness and flavor of the fiddleheads will remain intact for about 3 weeks.
Keep Submerged In Cold In Refrigerator
Fiddlehead ferns can be stored for two weeks by submerging them in ice cold water in the fridge. All you need to retain the freshness is to keep changing the water once in two or three days.
Pack In Onion Bags & Stire Undergroud
There is a very interesting way to store these fiddleheads. Pack them in onion bags and keep them in the ground spring. It remains fresh. Storing fiddlehead ferns by keeping them in ice cold running water also helps in retaining the crispiness and freshness for a very long period of time.
Tips To Follow Before Storing Fiddlehead Ferns
Whichever way choose to store fiddlehead ferns for a longer time, these are few important steps that you need to follow before freezing:
1. Rinse the freshly harvested fiddlehead ferns with cold water. Clean them properly so that there is no more dust or dirt.
2. Blanch the cleaned ferns as batches for about 2 to 4 minutes.
3. Drain the water completely.
4. Immerse the blanched ferns in cold running water and allow it to remain for 2 to 3 minutes in cold water.
5. Remove from the water and dry it properly.
6. Wrap the fiddlehead ferns in plastic bags or vacuum bags or freezer containers.
7. Now keep in the freezer.
You can store fiddlehead ferns in this way without losing their crispy texture and flavor till the next fiddlehead fern season.
Image Credit: chefkelso.com
How To Store Fiddlehead Ferns