How To Preserve Figs?
10 Apr 2011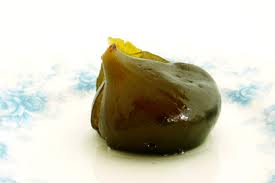 Figs are known for their short life span soon after ripening. Hence, it is imperative to know how to preserve figs.  Also, the use of figs efficiently for a long time will depend on largely upon the method used to preserve figs. 
Tips to Preserve Figs
Some common ways of preserving figs include freezing, canning, drying and preparing fig dishes like jams, and syrupy figs. 
1. Freezing
Over ripened and tender figs will not stand freezing and needs to be separated under cold water, following which the chosen figs are dried well using a towel and placed on a oven baking sheet. Place this arrangement into the freezer and you will find yourself successfully freezing the figs, which can be stored for nearly three months and enjoy the harvest.
2. Canning
Figs are generally canned fresh in the air–tight containers following stringent canning procedures and are usually ready to use for any preparation. They are canned is sweet sugar syrup and not in brine. Their shelf life is nearly six months. Fig jams is also much similar to canning and has similra shelf life but are more of alkaline preparations.
3. Drying
Figs are pressed and sun dried using a sun dryer or a mechanical dryer, can be stored on your shelves for a year or so, and could be rehydrated by immersing in water before use.
4. Brining
Brining figs in sugar syrup will allow you to preserve figs and will keep the molds away from your fruits. 
Besides, some of the fig dishes that could be stored for a longer periods of time and is therefore a fig preservation methods will include frozen fig yoghurt, fig chutney with dates and fig chutney with ginger are some of the best ways to prepare and preserve figs.
Image credits: rainbowcooking.nz.co 
How To Preserve Figs?