How To Preserve Cookies

9 Apr 2011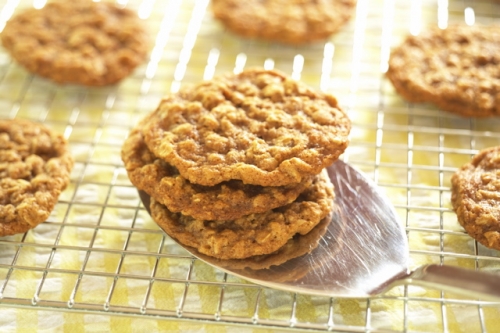 Wondering How to preserve cookies? Well, storing cookies in jars mars the taste of cookies as it becomes stale in less than a week. Learning the process of preserving cookies lets one enjoy delicious homemade cookies for 3-4 weeks after they have been taken out of the oven.
Here is a step by step guide to preserving cookies and keeping them fresh.
Preserve different kinds of cookies in different wrappers to avoid mixing of flavors.
Do not wrap more than a dozen cookies at a time. Double wrap them. Use saran wrap.
Placed the wrapped cookie inside a container like ice cream bucket or reseal able poly bags.
If more than one type of cookies are stored, it is better to label them with their names and date.
Use the oldest cookies first.
Inside the reseal able bag or ice cream bucket put a bread slice or moistened unglazed piece of terracotta. These help to keep the cookies moist.
Put the cookie bag or cookie bucket inside the freezer.
Before eating, defrost the cookies by placing them on counter tops.
If you like moist cookies or if you don't have the time to defrost, then they can be popped up in the microwave.
For crispy warm cookies, place frozen cookies in a baking sheet and pop them in oven for a couple of minutes.
By learning how to preserve cookies, one can enjoy eating and serving warm cookies as if they have just come out of the oven.
Image Courtesy: ifood.tv/files
How To Preserve Cookies