How To Store Hummus?

7 Apr 2011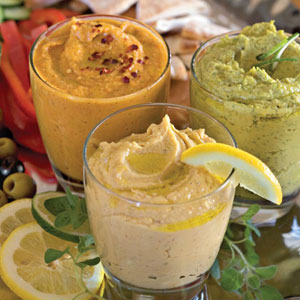 People find it difficult to understand how to store hummus for long especially with grocery bought hummus. Storing hummus plays key role in allowing you enjoy the freshness of hummus. Hummus can be stored by some quick fix methods which we will learn presently.
Storing Hummus – Tips and Tricks
Hummus is made from raw vegetables and ripe fruits. The high moisture and oxygen content in humus due to its ingredients, makes it an easily perishable food product. You must always check for some moldy or yeast like growth before adoring your recipes with hummus. In commercially available hummus, the can contains nitrogen which is enough to prevent any living, palpable contaminants to thrive in hummus. However once hummus container is unsealed, you don't have nitrogen now to retain the freshness.
Here, comes your turn to keep hummus fresh. You can mix your hummus with some roasted garlic and blend it in processor. Garlic is natural antibiotic and will serve your purpose of letting your hummus go bad.
One of the quick fix methods to store hummus is to drizzle some drops of olive oil or extra virgin olive oil. Olive oil retains the freshness of hummus and also perks up the flavor of your hummus derived recipes.
People in Asian countries make optimum use of raw, grounded turmeric in their culinary preparations. Wondering why so? Well it is done to add yellowish tinge, add flavor, and most essentially, turmeric does not allow entree of any sort of contaminants, it is a powerful preservative naturally available. This can be used while storing and preserving hummus as well.
Canisters with freshly prepared humus must be stored in temperature around 30 to 40 degree Fahrenheit. Make sure to store your hummus containers in cool, dark place, don't allow any direct sunlight or heat contact to hummus. It will go off the track before you think of applying it on your bread crumbs.
Storing hummus for longs ensures efficient packing, no air penetration, strictly no leakage spots, adding some natural preservatives, and keeping it refrigerated for good span of time.
The above mentioned tips on how to store hummus ensures safe, healthy, and sumptuous eating for you without much needed effort!
Image credit: ifood.tv
How To Store Hummus?