How To Freeze Jerusalem Artichokes
10 Mar 2011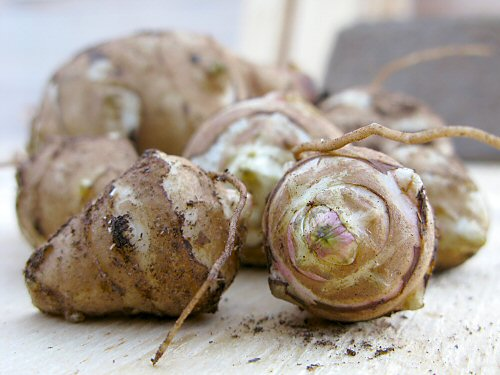 Did you know you could freeze Jerusalem artichokes for using later? Jerusalem Artichokes are also called sunroot, sunchoke, earth apple or topinambour sunflower which is native to N. America. The tuber is used as a root vegetable in several parts of the world. 
 What is interesting is that these tubers are not artichokes, neither were they grown in Jerusalem. The only similarity to artichoke is that they taste just like artichokes and belong to the same daisy family of plants. That could be why people these days just prefer to call it sunroot or sunchoke.
The beneficial uses of growing sunroots are that they contain inulin instead of starch and are used in making fructose by the food industry. These Jerusalem artichokes are healthy since they contain 650mg Potassium/cup, high in iron and also contain 10-12% RDA of fiber, thiamine, phosphorous and copper. They are sometimes used as potato substitute making it lighter, fluffier with a sweet nutty flavor tuber, although they are supposedly gassier. They are good for people with diabetics due to less starch content.
Jerusalem artichokes can be frozen and refrigerated for long term use without spoilage.
How to freeze Jerusalem artichokes
Take a bowl of water and add ice cubes to it. Set aside.
Take another bowl/pan with water and boil it.
Give a royal scrub to the Jerusalem artichokes. Since they are nubby and tightly packed split them apart and brush them down well to remove all the dirt from it.
Slice/dice/cut your sunchokes into small pieces.
Boil these artichoke pieces in the boiling water and boil for 5 minutes until it is tender.
Once these are boiled dunk them in the ice-cold water with ice cubes in it and allow cooling down. Take them out and dry.
Now transfer these pieces to freezer bags or plastic Tupper ware that is air-tight and sealed well. Make them air tight by removing all the air.
Transfer to the freezer for use later.
The Jerusalem artichokes are now frozen and ready to use on a later date. Freezing the artichokes is easy and you can keep the product for a long time in the freezer, when you have an abundant crop cultivated. They are perishable if kept for a long time without refrigeration. So it is better to freeze them so that they will taste as fresh and healthy later too.
 Image Credit: pickelsnotpipeboms
How To Freeze Jerusalem Artichokes