How To Preserve Jalapeno Peppers As Whole

2 Feb 2011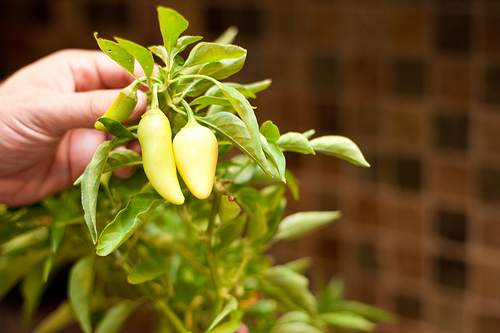 Are you wondering how to preserve Jalapeno peppers as whole, some ideas here will help you to preserve jalapeno peppers available abundant in your garden. Preserving jalapeno peppers is a great idea as it helps to use them for several months. You can save them for long term using the things available in your house.
Freeze Jalapenos: To preserve jalapeno peppers, Freeze it in the refrigerator, Blanching is not required, but usually freezed Jalapenos are good when used for cooking and not recommended to use it raw.
In Vinegar: You can take the whole Jalapeno peppers and place them in a jar. Now fill the jar with vinegar and keep the jar in the refrigerator for a week. You can use this as pickled jalapenos and you should discard it after a month. If you use this method to preserve jalapeno peppers, store the jalapenos required for a month as you need to discard it. However you can use the vinegar for cooking that has a spicy flavor.
Canned Jalapenos:  For this you need salt, vinegar, water, pickling spices and Jalapenos peppers. Take a hot jar and place the washed jalapenos and pack it tightly.  Now add all other ingredients to it and at top leave half inch space. Pour boiling water to fill the space and boil it for 10 to 15 minutes. Make sure that air bubbles are removed and close the jar.
Drying Jalapenos: This way is considered good to preserve jalapeno peppers. Takewhole jalapeno peppers wipe them using a damp cloth; use a thin cotton cord and needle to string the jalapenos together or use dehydrator to dry them.  Small peppers are dried faster than large one, to fasten the process of drying; you can slit the jalapenos peppers.  After drying the peppers, you can use them as whole or grind it and use it as seasoning.
Many people prefer Freezing the peppers, as it taste good than pickling.  But some like the pickled pepper as it is very spicy and taste different. Now you have many ways to preserve jalapeno peppers and to taste it throughout the year.
Image credits: farm2.static.flickr.com
How To Preserve Jalapeno Peppers As Whole