How To Store Nutritional Yeast Flakes At Home
28 Jan 2011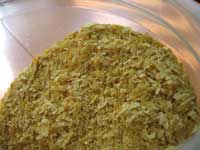 There are many ways to store nutritional yeast flakes,  and knowing how to is always important since it's not an easily available source of ingredient in your kitchen and especially if you have bought nutritional yeast flakes in large quantities. Since it doesn't come in smaller pouches for one-time use you are forced to buy them in large quantities. Another reason why it comes in bulk packages is that it can get more expensive when they are sold in smaller quantities. One bag of nutritional yeast generally will go on for a month if you are a regular user.
Nutritional yeast is considered to be a dietary supplement and is rich in minerals, B12 and protein. Not to mention, it's also a popular vegan ingredient since it is free from animal by products, dairy and sugar.  You can get nutritional yeast flakes in health stores or gourmet section in your neighbourhood supermarkets. It's also possible to buy nutritional yeast flakes from an online grocer.
As you know, nutritional yeast flakes are added to many dishes to enhance flavor. Since it has a cheesy flavor, it can be easily added to your soups, smoothies, gravies or even pasta. Store bought yellow nutritional yeast flakes keep forever if stored properly. They actually, almost never go bad.  The containers or plastic bags in which they come are not the best storage mediums. Once you finish using your yeast flakes, transfer it into two or three zip lock bags filling three quarter full. Seal the bags tightly and store it in the freezer. It's common knowledge that nutritional yeast stores best when it's kept in cold condition.
Tip: You can use nutritional yeast flakes in place of parmesan cheese. 
Image credit: bayareaveg.org 
How To Store Nutritional Yeast Flakes At Home