How To Store Dried Cranberries
28 Jan 2011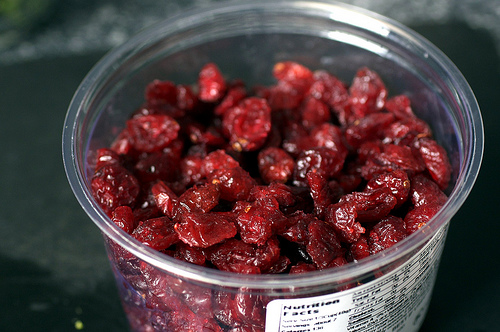 How to store dried cranberries? I do know a thing or two about that. I am a big fan of the cranberries. Any form of the cranberry is a good form of cranberry to me. Except the raw ones, fo course. I mean, the raw cranberries are too tart to be eaten plain. That is why, about 95% of cranberries are processed into products like juice drinks, sauces, jellies and sweetened dried cranberries. The dried cranberries are extensively used in cooking sweet dishes. Obviously because they taste great. But before you store dried cranberries, you need to know how to treat them. You will have to soak them in boiling water for a while till their skins split. Then, you will have to drain them and spray a sugar solution to reduce their tart flavor and also to bring about a suitable texture. Afterwards, you need to let the berries sit overnight before you can dry them the next day in an oven or a food dehydrator.
You can store dried cranberries in the following ways.
Storing dried cranberries in the pantry:
You can store dried cranberries in a clean mason jar. Of course, you will have to screw the lid shut. You can also store them in a sealable plastic bag. Put a sticker the jar or the bag. Date it and place it in a dry place. This way you will know how old the cranberries are. The dried cranberries will last about 3 to 4 weeks in your pantry.
Storing dried cranberries in the fridge:
The best storage of the dried cranberries would be inside the fridge where it is cool with low humidity. Follow the same steps involved in storing them in the pantry. Don't use a mason jar if your fridge does not have much space inside. Except this time, you will be placing the bag or the jar inside the fridge. They will last for an year inside the fridge.
Storing dried cranberries inside the freezer:
Add in the dried cranberries into a bowl and cover it with a lid. Put a sticker marked with the date on top of the lid. Keep it inside the freezer. They will last for about an year but try and use them up before 8 months.
Good luck with storing those berries. But when you bake a cake, call me over. Adios!
Image Courtesy: flickr.com
How To Store Dried Cranberries