How To Freeze Amish Noodles

14 Jan 2011
It is always good to freeze Amish noodles so as to derive the maximum taste from it. Amish noodles are made of eggs and white flour. The dough for the noodles is prepared and then the noodle strips are made.
Freezing the noodles before actually boiling them to make any noodle recipe makes them more tasteful, when cooked. Freezing not only helps to retain the flavor but also keeps noodles from becoming soggy.
To freeze Amish noodles, you'll need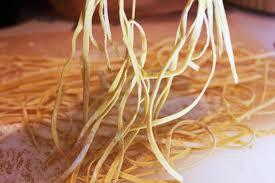 Air tight plastic containers
Masking tape
Color marker
Steps for freezing Amish noodles:
Take Amish noodle strips and divide it into parts so that each part can be easily put in the plastic containers.
After you have divided the noodles, spread a paper towel on the kitchen slab.
Now, open the containers and place them in a line. Doing this will make your work easier, and you will not bother to wash hands again and again to open the containers.
Now, carefully put the divided parts of Amish noodle strips into the containers.
Cover the containers with the lid tightly so that no air should go in.
Instead of containers, you can also make use of air tight bags.
Now, with the help of scissors cut labels of masking tapes.
Now place them either on the top or sides of the containers.
With the help of marker, write the date of freezing on the labels.
Also write a date two months ahead of present date.  The noodles should be used before the second mentioned date.
Helpful tips for freezing Amish noodles
Small air tight jars should be used to prevent freezer burn and to maintain freshness.
The noodles should be consumed within 2 months.
Image credit- www.daily-survival.blogspot.com
How To Freeze Amish Noodles