How To Keep Grated Potatoes From Turning Brown Before Using Them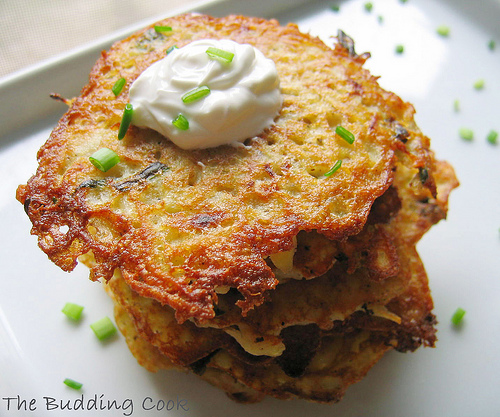 If you want to know how to keep grated potatoes from turning brown before using them for recipes like potato pancakes and hash browns, read this article carefully. 
Grated potatoes serve as a luscious base for several comfort foods. These recipes are often prepared by mixing the potatoes along with a few other ingredients and then they are fried in pan. Potatoes must be cooked quickly after they have been peeled so as to prevent the flesh of the potatoes from browning. However, here are some tips which will tell you as how to keep grated potatoes from turning brown before using them.
Add some lemon juice or vinegar to a bowl of cold water.
Peel the potatoes. Place the peeled potatoes inside the bowl of cold water until you are ready to grate them. The water bath you give to the potatoes will prevent them from browning too quickly.
Grate the potatoes and do not store these grated potatoes in cold water. Dipping the potatoes in cold water will cause the starch to leak out of the grated potatoes and also prevent them from sticking to each other while cooking. Instead, you should mix the grated potatoes with one chopped onion and keep this mix inside the fridge until you find it ready to use. The onions will be a great addition not only in terms of flavor but they will also prevent the potatoes from browning.
image credits : farm4.static.flickr.com