How To Freeze Roast Potatoes?
22 Dec 2010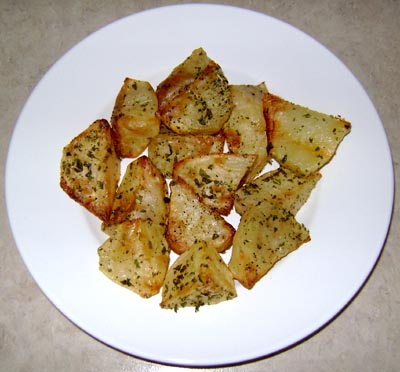 Ever thought of freezing your beloved roasted potatoes in advance before the party. Not a bad idea indeed, lets find out with this article How To Freeze Roast Potatoes?
Introduction: Roasted potatoes available in stores are made of different configuration compared to the ones made at home. However, if you are very keen on making them in advance before your party, try it before hand as the texture of homemade roast potatoes may turn bad when you reheat it.
Step 1: Once you roast the potatoes, take them out of the oven and spread them on a tray and keep it aside to let it cool down itself. It is recommended to roast potatoes according to the size of the wedges.
Step 2: Upon cooling down, collect the roast potatoes and keep them in the ziplock bags to prevent them from any exposure of air or light. Don't forget to add salt, which acts as a great preservative.
Step 3: Freeze the bags of roast potatoes.
Step 4: After you are through with the procedure to freeze roast potaotes, they are ready for later use. Take them out after three to four days and defrost it first. Spread the roast potatoes in a tray and sprinkle very little water on each one of them and reheat it for 1-2 minutes. Don't leave it unattended, it may burn the potatoes.  
Step 5: If you have roasted potatoes in a butter blush, no need to worry as butter doesn't rancid quickly. However, it is recommended to freeze the potatoes with a stick.
Conclusion: If this technique of freezing roast potatoes work for you, go ahead with it since this will enable you to save precious time in making them on the party day. Just make them in advance and reheat them. If not, try this recipe for an ordinary day. Enjoy!
Image Credit: melaniecooks
How To Freeze Roast Potatoes?