How to Store Fresh Green Tomatoes
21 Dec 2010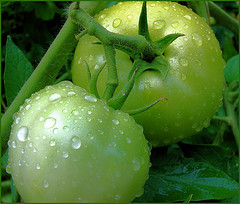 Here are certain tips you must read to know how to store fresh green tomatoes. 
It is not usual to have an abundance of green tomatoes when the harvest ends in the fall. One must store green tomatoes properly until they turn red and can be eaten. Storing green tomatoes is not an easy task. Mature green tomatoes are three-fourths ripe and they continue to ripen in storage. These tomatoes do not have the flavor of vine-ripened tomatoes, but they still taste good in stews, soups and salsas.
Pick the tomatoes and then remove their stems. Buy them as close to the first frost as possible.
Wipe them with a clean cloth. Wash them in a mixture of 1 1/2 teaspoons of chlorine bleach in 1 gallon of water if you are worried about mold and rot. Dry the tomatoes using a soft cloth.
Place them in shallow boxes in single or double layers. Do away with any that have already started to turn red, and put them on the counter to finish ripening. These must be used right away. The green tomatoes will stay fresh from one to six weeks, depending on their type. To store them for as longer time as possible, place them between 55 and 70 degrees F.
image credits : ifood.tv
How To Store Fresh Green Tomatoes