How To Store Non-Stick Cookware At Home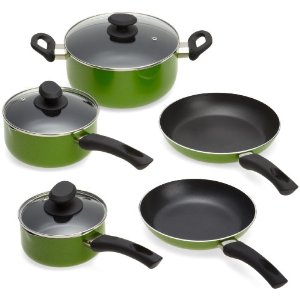 One needs to know how to store non-stick cookware at home, because non-stick cookware is a boon to the modern home and to modern cooking. Gone are the days when we had to use oil or fat to prevent the food from sticking on  the insides of the vessels. There will be no more nights spent scrubbing the sticky, blackened utensils. Non-stick cookware has single handedly reduced the oil and fat consumption in homes around the world. These are the best cookware for weight watchers. This post is about storing non-stick cookware at home.
Pointers for storing non-stick cookware at home.
1.I always hang the vessels in individual hangers, separate from each other. You could do that too if your kitchen has a lot of space or if you have only a few non-stick vessels.
OR
2.You can use the potholders to stack them.
3.You can use cloth napkins to stack them.
4.You can use paper plates or paper towels to stack them.
5.You can use Styrofoam sheets to stack them.
6.You can use bubble wrap to stack them.
7.You can use thin cardboard sheets to stack them.
8.You can store the non-stick cookware in the manufacturer's cases which came with them, when you first bought them.
What you shouldn't be doing to your non-stick cookware
1.Exposing your non-stick cookware to sudden temperature change. Do not immerse your vessels in cold water, straight off the stove. The sudden temperature change will ruin the quality of the vessels. Wait till they cool down and then clean them.
2.Cooking on extreme heat is a sure way to kill your non-stick cookware. These vessels are designed for low to medium heat cooking and nothing otherwise.
3.Washing the non-stick cookware in the dishwasher. This might come as a surprise to many of us because not many of us are aware of this fact. The dishwasher detergent is quite strong for the non-stick cookware and it will soon spoil the surface coating of the non-stick cookware.
4. Using metal cookware on them. If you use metal spoons and ladles on non-stick cookware, they will leave scratches on the surface, ultimately bringing down the lifespan of the cookware.
5. Using heavy utensil scrubbers. It is advised to use a soft sponge or a nylon scrubber to clean the non-stick vessels because they don't need heavy scrubbing.
Finally, the more careful you are with the non-stick cookware, the longer they would last.
Image courtesy:realestategirl.typepad.com