Choose the Best Spice Jars For Your Herbs
19 Nov 2010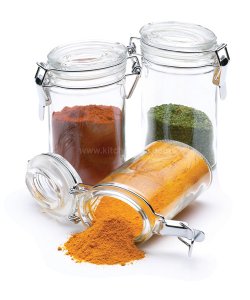 If you are planning to re-organize your spice shelves with fresh new jars, then, I am here to help you choose the best spice jar for your herbs. While, you can always stuff in the herbs in the same old jars in which you bought your herbs, but, as you begin to get more and more spices and herbs in the kitchen, you sure feel the need to buy new ones.
So, here I am, to share with you my knowledge on how to choose the best spice jars for your herbs and I am hoping you will surely gain some good ideas on organizing your kitchen spice cabinet with the best of spice jars for herbs. So, here we go …
Choose the best spice jars for your herbs – Glass Jars
When you go out in the market, you will easily discover that the shops are actually flooding with a rich assortment of choices for your spice jars. I personally feel the traditional glass spice jars are quite easy and convenient to use. And, most importantly, you can see through them and in one glance you can get the herbs you are looking for. Besides, it also becomes easier to know the amount of spice left in the jar for you to go on with for the coming days. The beauty of these glass spice jars is that you can get them with different lids. While some glass jars have screw tops, others have flip-up lids and yet, there are some more varieties which also include air tight jars. 
Choose the best spice jars for your herbs – Steel Jars
If you are the proud owner of a modern kitchen or your kitchen is decked up in all stainless steel appliances, then, you might like to consider taking a look at the stainless steel spice jars for herbs. Neat and tidy as they are, these jars are the best fit for any kitchen that stresses more on seeing things organized and uniform rather than always worrying about the amount of herb still left in the jar! But, if you are sad about the labeling part of these steel jars, then, I do admit to your concern as I believe it does feel a bit messy when scratching out the old labels to replace it and all. Then again, you can try out the smart stainless steel jars available these days, which come with glass tops so that there are no hassles of labeling involved to identify your herbs.
Choose the best spice jars for your herbs – Others
The other options left for your spice jars for herbs are the ceramic and plastic varieties. The ceramic ones are good as long as you are more interested in the décor of your kitchen and the interior color coordination. These bulkier jars are otherwise quite prone to chipping easily. The same with the plastic jars, which surely come in multi-colors and can enliven the look of your kitchen, but these jars tend to absorb the herbal odors quickly and also, become stained easily. 
Picture Source: kitchenaria.com
Choose The Best Spice Jars For Your Herbs