How To Store Peppermint Bark?
Peppermint bark, a popular Christmas candy, is nothing but tempered chocolate with peppermint candy pieces. With Christmas just around the corner, the demand of Peppermint Bark is soon to emerge. For such occasions, buying the right peppermint bark is important indeed. But, more important is to know how to store peppermint bark, so that it has the maximum shelf life and you have a good stock of it during the holiday seasons.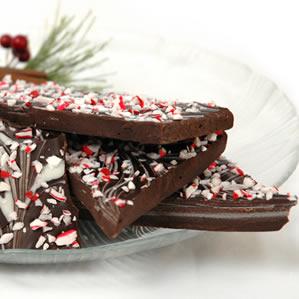 Storing peppermint bark at home is very simple. Just follow the steps below and store the peppermint bark that you have bought in the most effective way:
•    Break the peppermint bark into bite sizes.

•    Wrap each of these pieces with wax paper or plastic wrap to remove all traces of moisture.

•    Place the wrapped pieces in an airtight container.

•    Store the peppermint bark at room temperature if you plan to use almost immediately.

•    However, if you need to store the peppermint bark for almost two weeks, then place the jars in the refrigerator.

•    For storing peppermint bark for a much longer time (for about six to seven months), you can store the wrapped pieces in the freezer. However, ensure that before using the frozen peppermint bark, you thaw them at room temperature for quite some time. Do not remove the plastic wrap while thawing, so as to avoid condensation.
Thus, depending on for how long you need to store the peppermint bark, choose your option of storing it. Storing peppermint bark at home is thus an easy, simple and hassle-free method that can be followed by anyone. It not only saves you the trouble of running at the last moment to the shop to stock this popular candy at home – and at a higher price - it also saves you time and yes, a lot of money. Hence, know how to store peppermint bark at home and be prepared to offer kids and guests with this great holiday candy anytime and every time.
Photo Courtesy: cdn.savannahcandy.com