How To Store Whey
14 Oct 2010
Whenever I prepare cottage cheese at home I collect the whey and store it for future use. When you know the tricks of how to store whey, you can easily store it for at least 6 months and can use it in various ways to make your food more nutritious. Storing whey at home is nothing big at all. However, you should be careful about how and where you are storing it.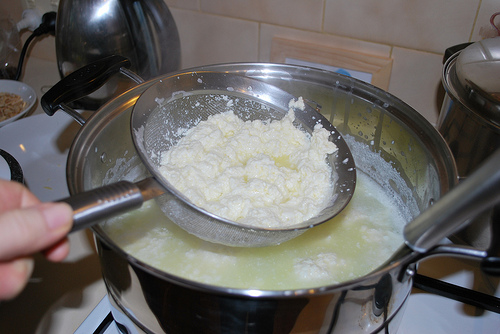 Whey can also be collected from other dairy products like buttermilk or yogurt. This yellowish thin watery liquid gets separated in the process of making these dairy products and the best thing about whey is that it is highly nutritious. For collecting whey at home, you will require good quality cheesecloth. Alternately, you can also use several layers of the normal cheesecloth. Many prefer to use clean towels, but I find it too messy to separate the dairy product from the towel. Also much of the whey will get soaked in the towel. So, in my opinion cheesecloth is the best.
To collect the whey from the dairy product, you will take a large bowl. Place a colander on top of the bowl. Within the colander lay the cheesecloth and pour the dairy thing over the cheesecloth. The maximum part of the whey will get strained within few minutes but it takes quite a long time to drain out completely. For this you have to gather the edges of the cheesecloth to tightly tie with a rope or ribbon. Allow the whey to drip overnight. When you leave this for overnight dripping then cover the colander with a clean lid, so that the whey does not get polluted.
In the next morning, when all the whey has been collected in the bowl, separate the dairy item from the cheesecloth. If you find that the whey is still dripping then tight the cheesecloth bag more strongly to drain out every drop of whey. After collection of whey, take another clean container to keep the dairy product. The cheese or butter milk or yogurt now gets a different texture and you can use these as spread by mixing spices and herbs.
Now take a clean and dry glass jar to collect the whey from the bowl. Cover the lid of the jar tightly and keep it inside the refrigerator. You can also use airtight plastic container or vacuum bags to store the whey. If you use the vacuum bags, then make sure to remove all the air from the bag before tightening the seal to keep inside the refrigerator. This technique will ensure safe storing of whey for more than 6 months.
Image Courtesy: happy-dacks.blogspot.com
How To Store Whey