How to Store French Pastry?
Just had a party and you have no clue how to store the left over unbaked French pastry dough or the baked French pastry itself?? No problem! Here are some tips on how to store French pastry: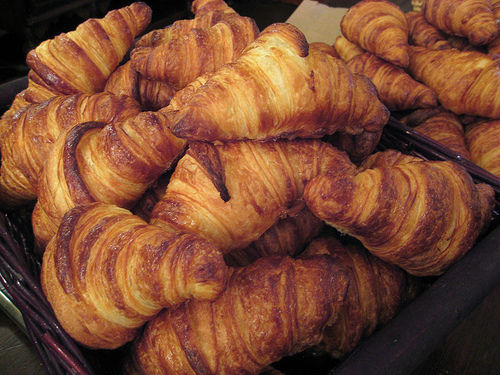 Storing Unbaked French Pastry
 
 
Refrigerate your raw pastry dough if you are going to use it later. If you don't do this the production of acids by bacteria will cause your dough to turn sour. Once this happens you should not use it to make your French Pastries
 
Brush some water on to the dough and then wrap it with a plastic wrap before refrigerating. This way no skin or crust is formed due to exposure to air.
 

Remember that you can freeze your dough twice and not affect the rising ability of the French pastry dough.  
 
You can freeze dough and then later in time roll, fold and reshape it and then refreeze it again.  Just remember not to add any sugar topping to the dough as this will melt and burn when baking. It is always better to add your sugar topping right before baking.
 
You can keep your dough for 2 days in the refrigerator and indefinitely in the freezer.
 
Actually, frozen pastry will bake really well as the shock of the hot oven on the cold pastry favors even baking and lesser shrinking.
 
You can defrost your French pastry dough by either keeping at room temperature for close to 6 hours or by moving it to the refrigerator and leaving it there overnight.
 
 
Storing Baked French Pastry
 
 
You can keep your pastries only for a maximum of 2 days at room temperature provided it is covered in aluminum foil , a plastic wrapper or in a plastic bag so that it doesn't dry out.

 
Though they can be stored at room temperature it is better to store them in the refrigerator. You should cool your freshly baked French pastry before storing it.When doing so ensure that the French pastry is wrapped in plastic. This way it will last close to a week.
 
Stuffed French pastry will not last too long as the stuffing tends to get soggy either when you are refrigerating it or defrosting it.  
 
You can also freeze your pastries in a heavy duty freezer bag but it would be a bad idea to freeze French Pastry with cream fillings.
 
 
TIPS
 
You can store your French pastries that have cooked fruit fillings for a maximum of two days at room temperature as the high sugar content and acidity retards bacterial growth. But if your French pastry filling or topping is uncooked fruit like strawberries then refrigerate them. They will stay for one day.
 
Custard and cream filled French pastries will not last because they tend to get soggy and destroy the French pastry.
 
Always freeze your fillings separately.
 
Don't store your French pastry with the whipped cream topping. The whipped cream topping will break down and weep. Add them as your French pastry topping right before serving them.
 
Image Credit
www.flickr.com

How To Store French Pastry?