How to Store Peanut Oil?
Come Thanksgiving and we are all going to buy some peanut oil to pour into those turkey fryers and make some yummy Thanksgiving Turkey. But it would be so much easier and economical if you figure out how to store peanut oil at home. After all, you can use it throughout the year for frying and a good quality peanut oil makes all the difference to your dishes. Here is how I go about storing peanut oil: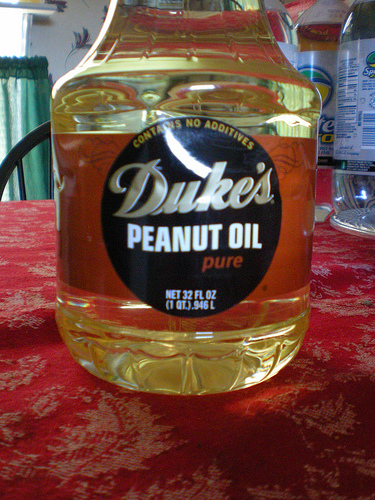 You can store the peanut oil in a tightly sealed bottle or container, in a cool, dark place away from heat and light.  The refrigerator i best suited for this purpose. Make sure that it is stored in a sealed container and not left open as it can get rancid this way. Peanut oil has monounsaturates and these benefit from being stored in the refrigerator.
 
It is possible that the peanut oil will cloud in the refrigerator, there is nothing to worry. It will become clear again when it comes back to room temperature or when heated.
 
Unopened peanut oil will last for about a year and if opened they will last for close to 6 months.
If the oil has a weird smell, then discard it.
 
Remember that as peanut oil has a higher flash point it is more durable than the other oils when it comes to high temperature. Also, peanut oil doesn't absorb the flavor of the food fried in it. This means that you can definitely reuse peanut oil and also save money!!
 
 
TIPS
 
Peanut oil can be used 3 to 4 times to fry before it starts deteriorating. When cooking, you can figure if the oil has gone bad by checking for foaming, darkening or smoking.
 
Try and avoid preheating the oil and if you are cooking food in batches, don't waste too much time between the batches. Also, turn off the heat as soon as you've finished cooking. This way you can extend the life of the oil.
 
Always let the peanut oil cool down and strain out the remnant of the fried food. Then ensure that you filter it through a paper towel or preferably a cheese cloth before storing it.  
 
You can use peanut oil for your stir fries because the oils smoking point is over 450 degrees Fahrenheit.
 
It is the perfect oil to use for your salad dressings. I am sure you will love the nutty flavor that it adds to your salads.
 
Image Credit
www.flickr.com
How To Store Peanut Oil?