How to Store Vinegar?
I simply cannot do without vinegar in my kitchen. A dash of vinegar transforms a a simple dish to an exquisite treat!! But have you come across those instances where the vinegar just didn't make any difference. Don't blame the vinegar or your cooking, blame yourself for not storing vinegar properly. Yes, vinegar loses its original flavor if not stored properly as it is prone to evaporation. Don't forget that vinegar is developed from alcohol! Only storing it right can preserve vinegar's flavor. Here is how to store Vinegar: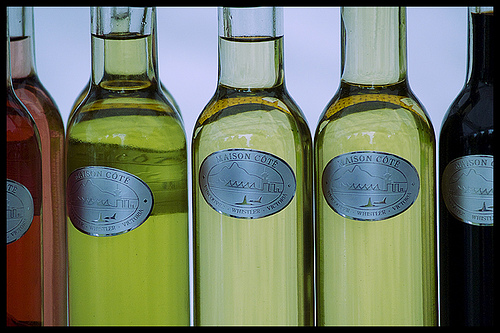 If your vinegar is not opened store the vinegar at room temperature.
Once opened close the vinegar bottle tightly and store it in a cool, dark place.
Ensure that the vinegar bottle is not exposed to heat or sunlight in any form.
Don't keep the vinegar bottle where it can get exposed to any strong aromas.
You can also store your vinegar in the refrigerator
TIPS
Never leave your vinegar bottle open
If not stored well for a long time, a cloudy substance called the "mother of vinegar "(it is used to make more vinegar) will form. If it smells bad discard it immediately. If it does not then you can filter out the mother of vinegar with a paper coffee filter and save your vinegar.
Balsmic Vinegar doesn't spoil fast but if you see any residue at the bottom of the botttle don't worry it's a normal effect of balsamic vinegar.
Choose your vinegar carefully. Make sure that your vinegar doesnt taste harsh or musty. Throw it away if it does.
Image Credits
How To Store Vinegar?