How to store chopped vegetables, and zip along with your daily chores?

21 Jul 2010
    
 With the kiddies,and round-the-week bottleneck schedules, you find it a difficult task to chop vegetables artistically. How to store chopped vegetables? Being a little fetish or lets say particular about the art of cooking which you believe originates from the art of chopping vegetables, you want to devote it the time and energy, that it rightfully deserves.
Wouldn't it be nice that when you have a Sunday of the week at your disposal, if you were able to chop the vegetables, for the week ahead, and just label it with the days of the week? Simple, your cooking would start with delicately chopped veggies, which would definitely add finesse to your curry or stew.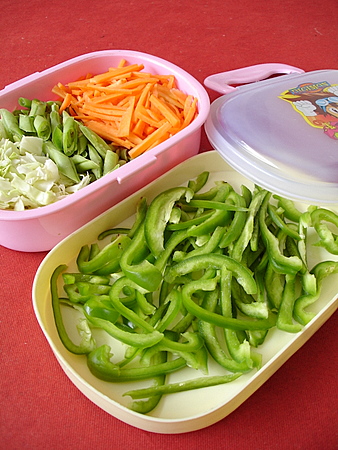 How to store chopped vegetables?
The techniques for storing chopped vegetables are well supplemented with tips gained from experience or 'grandma's treasure of wisdom'.
So here is a combo of tips and techniques on how you go about storing chopped vegetables.
•    Blanching is a good method to store chopped vegetables. You could add a pinch of salt to a vessel of boiling water and allow your veggies to boil for 3 minutes. Cool and freeze the veggies. For more information on blanching, you could look up the 'ready-reckoners' available on our site.
•    Take a plastic or a zip lock bag and suck the air out of it as much as possible and put your chopped spuds in the bag and seal it. You could store these bags in the bottom-most zone of the fridge where it is the coldest.
•    If you are dealing with peeled potatoes you could store them in a vessel of water where they won't discolor.
•    Another technique to retain freshness of chopped vegetables is to put them in a vessel of cold water and add a slice or two of lemon to it. This definitely acts as a good preservative for your vegetable. But at the time of cooking remember to strain the water from the veggies, as the lemon-tanginess might tinge your vegetable flavor.
•    For leafy vegetables, such as lettuce or spinach, you could use a paper towel or even keep them in water in food-grade plastic containers and refrigerate them.
Now when you wake up Monday morning, you don't have to have the blues, of slotting time for chopping veggies.  With our 'quick-to-follow' tips on how to store chopped vegetables, let your Monday Morn' breeze in with gait and sunshine.
Photo Courtesy : http://kidszone.sailusfood.com
How To Store Chopped Vegetables, And Zip Along With Your Daily Chores?