How To Store Fruit Salad

20 Jul 2010
Who doesn't love the taste of fresh fruit salads – but what happens when due to some reason it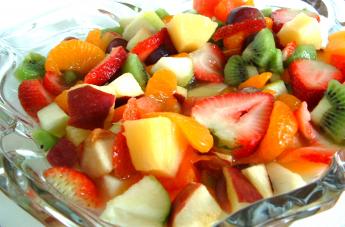 becomes necessary to prepare fruit salad in advance? Nothing to get scared about – if you know how to store fruit salad you don't have to deal with brown apples or mushy pears. Here are some simple tips on storing fruit salad.
1. You should fruits which normally maintain their color and texture well such as berries and grapes. If you are preparing food salad for immediate consumption you need not worry about this, but if you are preparing it in advance it is recommended to choose fruits intelligently.
2. Once you have prepared your fruit salad, you should ensure that you are storing it in any airtight container and then refrigerating it.
3. Even if you are putting your fruits in an airtight container and refrigerating, you need to ensure that you are having it within a few hours.
What will you do if you need to add apples and bananas?
Suppose you are making fruit salad for your children and they simply love bananas and apples – what do you do in such a case? It is easy – you just have to sprinkle some lime juice or use small orange slices – anything which is acidic. This shall prevent the fruits form turning brown or soft.
Tip: If you wish to add some crunchiness in your fruit salad, you can simply add nuts. You can also add mint leaves, fresh cream or yoghurt and some honey for additional taste.
Image courtesy: freshfruitsco
How To Store Fruit Salad