How to Store Key Limes?
19 Jul 2010
Know how to store key limes at home and store your citrus fruits safely for a longer time. Key limes are commonly known as Mexican Lime or West Indies Lime.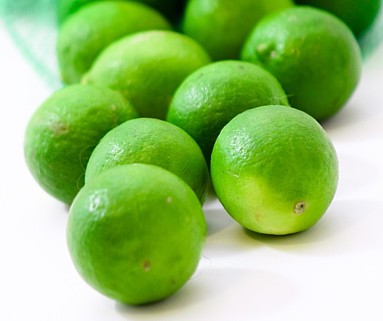 Small in size (a little larger than walnuts) and oval in shape, these limes have a thin yellowish rind. They are very juicy, extremely aromatic and generally have a more complex acidic flavor than other kinds of limes.  
Different forms of key limes can be stored in different ways. For example, you can store whole key limes in a refrigerator for almost two weeks. However, ensure that while doing so, you store them in plastic bags, at a temperature of about 4 – 6 degrees Celsius. The stored whole key limes at times last for several weeks as well. However, longer storage makes them lose their flavor and aroma greatly and you miss the taste that fresh key limes bring with them.
Fresh key lime slices or wedges can also be refrigerated in a similar manner. However, you can only store them for a maximum of five days. You can also store grated key lime zest in the frozen form in a sealed plastic bag.
If you want to store fresh key lime juice, you can even do so quite easily at home. The advantage with lime juice is that it can be frozen, which unfortunately, cannot be done with whole limes. The frozen state, in turn, also lets you store the juice for a longer time.
To store key limes juice, you need to follow the steps below:
•    Take a few fresh key limes and extract the juice out of them.
•    Put the juice in an ice cube tray. Keep them in the freezer and let it freeze.
•    Once frozen, take the ice tray out. Take out the frozen lime cubes and place them in a plastic bag.
•    Seal the plastic bag and store it in the freezer.
This form of frozen lime cubes stay up to four months. The next time you need to use them, just take them out from the plastic bag, in the desired quantity, and add it to your recipe.
Key limes are greatly flourished in South Florida, especially in Florida Keys. Hence, the name Key limes. They are a must for the famous Key Lime Pies. Fresh key limes are greatly used in flavoring fish and meats and in making other marinades. Their tantalizing bouquet and unique flavor also make them a great ingredient for making limeade or for garnishing drinks and plates. Fresh key lime juices are greatly used in making other beverages, sorbets, syrups, sauces, jams and preserves as well.
Photo Courtesy: beadshop.esmartbiz.com
How To Store Key Limes?