How to Dry Cranberries?
Don't you just love the color and taste of cranberries!!! I have always made my batch of dried cranberries at home not only because I want to add cranberries to my favorite dishes at any time of the year but also because they are a rich source of nutrients, antioxidants and dietary fibers. Also, they make for an excellent substitute for dried raisins.  But if you want to retain all the nutrient of fresh cranberries in dry cranberries then you better start drying them at home as the commercial drying process often depletes its nutrient content.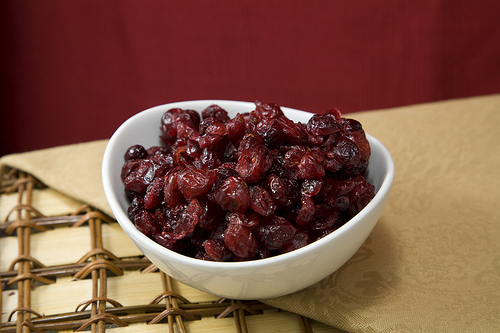 You can dry cranberries in two ways: by using a Food Dehydrator or an Oven. Here is how you can dry cranberries;
Pick up fresh and ripe berries for drying and wash them well.
Boil water in a saucepan and add the cranberries to it. Leave it in the boiling water for a few minutes taking care that the skin of the cranberries burst but the flesh doesn't get cooked and mushy. Wait for the skin to burst as it dries better then.
Take the boiled cranberries out, pat them dry and freeze them for 2 hours. This helps in further breaking down the cell structure thus promoting a faster drying process.
To dry cranberries in a Food Dehydrator, place them on a mesh sheet or a tray in the dehydrator and turn the temperature to 140 degrees F. It will take anywhere between 10 to 24 hours depending on the dehydrator and the moisture content of the cranberries
To dry cranberries in an Oven, preheat the oven to 350 degrees Fahrenheit   Spread the split cranberries on a baking sheet that is covered with 2 to 3 layers of paper towels and a parchment paper. Turn on the oven for 10 minutes. Turn it off and let it sit in the oven overnight.
Dried Cranberries can be a little sticky, leathery and chewy and the sugar coated ones are perfect to pep up your morning cereals. When storing them, vacuum pack them and store in a freezer. They stay for as long as 5 years in a freezer and 1 year outside.
Now you can prepare your favorite dried cranberry recipes. Mine are the Red Spangled Slaw with Dried Cranberries and the Cranberry Wild Rice Pilaf. Isn't your mouth watering already?  Come on, go ahead, dry your cranberries and get yourself some amazing original dry cranberry treats!!!
How To Dry Cranberries?