Mis-Marketing Of Meat - How Manufacturers Are Fooling You

20 Mar 2012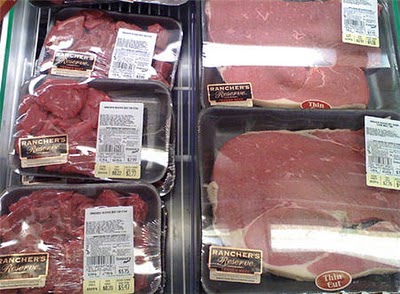 We are often mislead when we go out to buy meat. Shocking isn't it? Mis-marketing of meat is far too common than we would like to think. The good news is that the new regulations have made nutrition labels mandatory for meat from 2012. This is a much needed step as marketing goes a long way in helping us choose what we consume and it is important that the facts are not hidden from us. How to understand the ambiguous and misleading food labels is discussed below. Do take a look.
 Common Labels On Meat
Natural- Many packets of fresh meat state that they are natural. The USDA definition of natural is a product that has no artificial ingredient or added color. Unfortunately for consumers, this also holds good for the feed that animals consume. Most animals are raised on genetically modified food which is far away from the definition of natural. 

No Antibiotics- This term cannot be used without sufficient documentation supports that no antibiotics or antibiotic like substances were used while raising animals. Otherwise it is illegal as well as misleading to use this term.

Organic- This is undoubtedly, a favourite label with manufacturers. Given the need for food that is free from pesticide residues, organic meat is very popular with consumers who are willing to shell out extra money for it. According to a survey called the "power of meat" out of  1,340 people who took part in it, 24% of them preferred buying meat with the 'organic' label. This buying behaviour has been on the rise considering that 20 percent of people chose organic meat the previous year. Even the period of recession saw 17 out of 100 people buying organic meat. Sadly meat that has been farmed with plenty of chemicals is also being labelled organic. Only trust meat with a USDA organic seal as these products undergo stringent tests to meet requirements.

No Hormones- The USDA prohibits the use of hormones while raising pigs and chickens. So a labelling on such meat is illegal and senseless to use unless it is also mentioned that "Federal regulations prohibit the use of hormones." according to the USDA release.

Certified- A meat product can claim to be certified only if it has undergone rigorous testing for quality by USDA's "Food Safety and the Agriculture Marketing Service". Otherwise this label is untrue.

Enhanced or self basted- This does not mean that the meat you have purchased is enhanced with nutrients. It refers to meat that has been injected with a sodium solution that helps in better moisture retention during cooking. This is especially dangerous for those who are hypertensive and have heart related problems as it increases their sodium consumption by many times.
Hopefully this blog has helped you to identify the right labels from the wrong. Awareness is the key that will ensure you do not fall prey to mis-marketing by manufacturers who make product sales their priority. If you found this blog useful share it with your friends so that others may be benefited too.
Image Credit idahofarmbureau.blogspot.in
Mis-Marketing Of Meat - How Manufacturers Are Fooling You