Tips To Identify Rotten Tomato
10 Nov 2011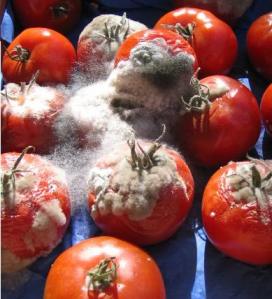 The recent outbreak of tomato-linked salmonella has made Americans very conscious about choosing the right tomato for their daily diet. When the Food and Drug Administration (FDA) announced the outbreak on June 3 this year, people took notice of the fact that even a few rotten tomatoes can do some real damage. While the tomatoes, subject to a panic wave, began disappearing from the hamburgers, salsa, and grocery shelves, our daily diet can't do without tomatoes for long. Therefore, it is better to equip yourself with the tips to identify rotten tomato. That is where this blog comes in.
Tips to identify a rotting tomato
Take a Good Look
First of all, take a good look at the tomato fruit and identify any signs of distress. If the fruit has light or dark concentric bands, wherever it may have touched the ground, then it surely suffers from the buckeye rot and, thus, not suitable for consumption.
Blossom End Rot
Look at the blossom end of tomato. If it resembles a dark, sunken area, then it has probably suffered from blossom end rot.
Exterior & Interior
If the tomato fruit has a blotchy or gray exterior with a brown interior, this again shows adverse growing conditions and thus, renders the fruit unsuitable for consumption.
Catfacing
Sometimes, the tomato surface is split open and the fruit appears lumpy in your hand. This condition is called catfacing, which again is an outcome of poor growing conditions like low light, high nitrogen, or low potassium.
Tomatoes are probably the most popular fruit used in a variety of dishes, right from the salad to your stew. However, tomatoes are best eaten when raw. Therefore, it becomes all the more important to keep in mind these tips to identify rotten tomato.
Image Courtesy: criticalgrasp.wordpress.com 
Tips To Identify Rotten Tomato