Gift Bread: How to Tips & Ideas
25 Aug 2011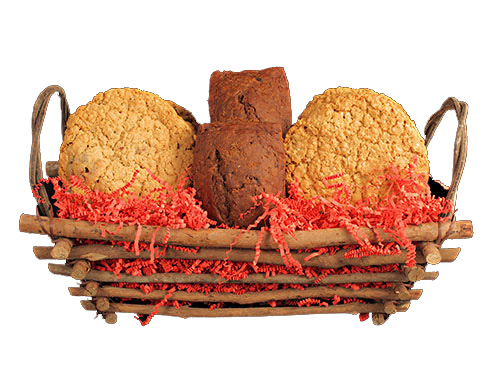 If you want to gift bread on some occasion, here are some useful gifting and packaging tips. Find out the preferences of the receiver, if any, and customize the gift accordingly. Read on for some simple ideas for presenting bread.
How to Choose the Best Bread to Gift
Buy the best quality bread. Make sure the varieties that you choose are fresh.
White bread – it is prepared using flour that contains just the grain's central core (endosperm).
Brown bread – it is prepared using endosperm along with 10% bran. White bread which is made brown using caramel coloring is also referred as brown bread, which is commonly called wheat bread in America.
Wholemeal bread – it is bread that contains the whole wheat grain and it is also known by other names, such as "whole wheat bread" or "whole grain bread".
Wheat germ bread – bread that has additional wheat germ to add to the flavor is known as wheat germ bread.
Whole grain bread – bread that has has additional whole grains in order to increase the fibre content is called whole grain bread.
Roti – it is a whole-wheat-based variety of bread. Chapatti is its larger variant.  
Pancakes, carrot cake, zucchini bread, waffles, Boston brown bread, and banana bread are some of the popular quick breads.
Ways to Gift Bread
An assortment of breads can be packed together and gifted away.
Homemade bread can be packed and gifted. If you want to know how to make a bread at home, refer to the article on
The ingredients of a simple bread recipe can be added as layers in a jar. The jar can be decorated and gifted.
You can pack different varieties of sandwich breads together and gift them. For more information on different types of breads used for making sandwiches, refer to the article on "how many types of sandwich breads are there".
You can also gift homemade set of quick breads. For further information on how to make quick breads at home, refer to the article on "quick breads with bakery breads recipe".
Packaging Ideas for Presenting Bread
Bread can be packed in a basket/box. Use colorful shredded paper filling to make the base. Place the bread on top of the base.
Gift bread to those who love eating sandwiches and cheese toasts! Decorate the gift properly and it will not fail to impress the recipient.
Image credits : sphinxdateranch.com
Gift Bread: How To Tips & Ideas