Gift Ice Cream : How to Tips & Ideas
24 Aug 2011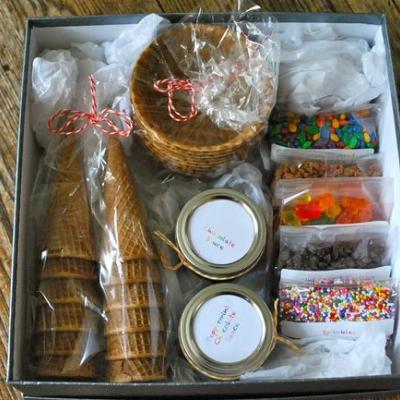 Gift ice cream on any occasion! In fact, it is a great gift for people of all ages and gender as everyone loves ice cream. Most people would love to receive an ice cream gift that contains gourmet ice cream toppings along with homemade ice cream and other complementary gifts.
How to Choose the Best Ice Cream to Gift
Whether you shop for ice cream online or at some local store, make sure you buy the best quality ice cream. If you want to know which are the best ice cream flavors which are liked by most number of people, refer to the article on "the ten best ice cream flavors". In case you are aware of any food allergies of the recipient, you can buy gluten-free ice cream which are offered by several brands.
Ways to Gift Ice Cream
For gifting ice cream, finest ice creams can be combined with the choicest ice cream toppings. Whether as a gift for a birthday, Christmas, or as a hostess gift, it will surely please the recipient.
Yet another idea is to include an assortment the best ice cream flavors.
Waffle cones, ice cream bowls, strawberry topping, hot fudge sauce, and maraschino cherries can be added as accomapniments.
You can make ice cream at home and gift it. 
You may also buy a readymade ice cream package from an online store and get it shipped. Take your time when shopping online to ensure that you find the highest quality. 
The most important thing to keep in mind is that the ice cream must reach the recipient in frozen form. Many online stores guarantee to supply frozen packages of ice cream.
Packaging Ideas for Presenting Ice Cream
Ice cream is best packed in plastic boxes while the toppings can be packed in jars. Both the boxes and the jars can be decorated with ribbons and trinkets. They must then be placed in a basket or a tray and then gifted away. Also, there are online stores, such as  icecreamsource.com that guarantee delivery of frozen ice cream gift packages to the provided address.
Follow the suggested gifting ideas to gift ice cream to family and friends to make  any celebration even more special for them. 
Image credits : stampedpapercoblog.com
Gift Ice Cream : How To Tips & Ideas