Gift Seafood: How to Tips & Ideas
24 Aug 2011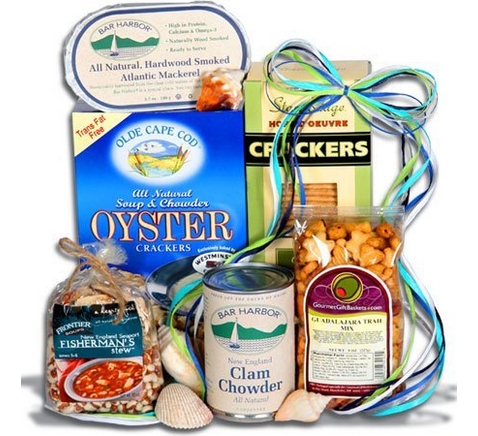 You can gift seafood on any occasion. This gift will surely be a big hit amongst everyone who receives it. There are several varieties of seafood, therefore, customize the gift as per the preferences of the recipient to make it an unforgettable gift for him/her.
How to Choose the Best Sefood to Gift
When buying seafood, buy the fresh ones. You must be very careful while buying fish. There are several species of fishes, but only a few of them are commonly consumed. The edible species of fishes are namely – Anchovy, Herring, Haddock, Tilapia, Cod, Sardine, Halibut, Eel, Catfish, Mackerel, Salmon, Trout, Carp, and Tuna. For more information on how to buy the best quality seafood, refer to the other article on "tips to buy fresh seafood". 
Ways to Gift Seafood
An assortment of seafood can be packed together in a platter and gifted away.
Homemade seafood recipes, such as lobster bisque, fish tikka, or steamed lobster can be gifted.
The ingredients for making a simple seafood recipe can be packed in a jar. The jar must be decorated properly before gifting away.
A recipe cookbook that has simple as well as exotic seafood recipes can be added along with other gift items.  
Packaging Ideas for Presenting Seafood
Seafood can be placed in a box/basket that can be beautifully decorated. Select the basket/box size according to the number of things you wish to fill in the basket. You may buy a straw basket, or a wicker box. Alternatively, a tin, a plastic container, or a seasonal container may also be used. Embellish the basket with some trinkets and ribbons or buy a decorative basket that does not need any decoration at all. Also, remember that almost all varieties of seafood are perishable, but fish is highly perishable. So make sure that it is packed at the final moment. Before that, it must be stored in the refrigerator.
You can use your own creative ideas or add a personal touch when you gift seafood. They make the perfect gifts for any occasion and are appreciated by all.
Image credits : megacoolinfo.info
Gift Seafood: How To Tips & Ideas