Gift Wedding Cake: How to Tips & Ideas
18 Aug 2011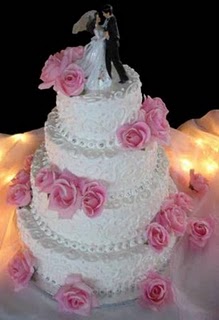 When you gift wedding cake to a friend, you tend to make his/her wedding reception extra special. Before presenting a cake, you must find out preferences of the receiver, if any, and customize your gift correspondingly. A unique and nice packaging makes any gift look attractive. Read on for some simple and easy ideas for gifting cakes.
How to Choose the Best Wedding Cake to Gift
There are different varieties of wedding cake that are available in the market, choose the one which suits the taste as well as the dietary limitations of the recipient. Traditionally, wedding cake was made from a fruitcake but these days it may be a carrot cake, a chocolate sponge, or a vanilla sponge. Wedding cupcakes is yet another trend these days. For making layers, thee cupcakes are placed one over the other on top a stand and finally decorated in wedding colors. These cakes are often decorated with flowers.
Ways to Gift Wedding Cake
You can bake a multi-layered or tiered cake at home, decorate it, and gift it.
A platter of wedding cupcakes may also be gifted.
A cake knife, a bouquet of flowers, and a bottle of wine are some of the suggested accompaniments.
The wedding cake can also be purchased from an online store form where it can be shipped directly to the recipient's address.
Packaging Ideas for Presenting Wedding Cake
The cake must be iced and decorated properly and then packed in a box. The box can be adorned with some ribbons and trinkets.
It is a great idea to gift wedding cake to express your love for a friend or a loved one. Personalize the cake using some creative ideas to make it a memorable gift.  
image credits : design-wedding-cakes-pictures.blogspot.com 
Gift Wedding Cake: How To Tips & Ideas