Visit your local farmers market
10 Aug 2011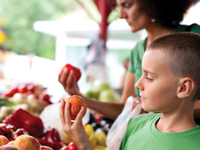 More and more, Canadians are flocking to farmers markets so they can put the freshest local foods on their dinner tables. A visit to the farmers market is more than just a shopping trip, it's a true food experience. There, you'll find top-quality farm-fresh products, and buy them directly from the farmer who produced them, giving patrons and farmers an opportunity to connect. No wonder farmers markets are growing in popularity: they're the number two source for food buying in Canada, growing faster than any other segment, with an impact on the economy well into the billions of dollars.
Want to enhance your visits to the farmers market?
1 Arrive early for the best selection.
2 Leave your purse at home—instead, bring a money belt with your coins and small bills, and reusable bags for your purchases.
3 Talk to farmers. Ask them about new and different products and how to prepare them, and give them a try—plan your meals around your purchases.
4 Go as a family. Kids will be more willing to try new things that they choose at the market. And, it's a great way to spend time together as a family.
5 Turn to your senses to find the best items. Look, smell, feel and taste—it's part of this unique shopping experience.
6 Take pleasure in the experience. Don't rush—meet, mingle, savour the flavours and enjoy your day.
This August and September, Maple Leaf Prime chicken will be visiting local farmers markets in major centres across the country to share samples, produce pairing tips, recipe cards, money-saving coupons and more. It's the perfect way to help you make family dinners the best part of the day. Check the schedule of stops by visiting www.facebook.com/MapleLeafPrime.
Visit Your Local Farmers Market