Gift Orange: How to Tips & Ideas
8 Aug 2011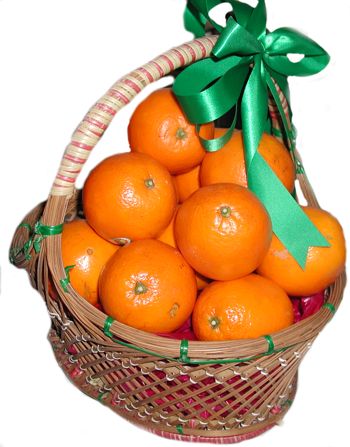 If you want to gift orange to someone on an occasion, you will find some very useful gifting and packaging tips here.
Find out preferences of the receiver, if any, and customize your gift accordingly. A unique and nice packaging makes any gift look attractive. Read on for some more of these simple and easy ideas for presenting orange.
How to Choose the Best Orange to Gift
Buy the best quality fresh oranges. Make sure the ones that you choose do not have any blemishes or bruises. Broadly, there are four different varieties of oranges, including Common oranges (mainly used for making orange juice), Navel oranges (primarily used for eating), acidless oranges (mainly eaten), and blood oranges (primarily juiced). Blood oranges are considered the most delicious ones. For more information on buying the best blood oranges, refer to my other article on "how to buy blood oranges".
Ways to Gift Orange
You may buy either canned oranges or gift fresh oranges.
In addition to the fruit, other orange flavored accompaniments, such as orange jam, and orange pastries, and orange biscuits can be added.
Crafted oranges will be a unique addition to impress the receiver.
You can also gift make homemade orange recipes, such as orange cake, orange jelly, or orange muffins.  
Other fruits may be added according to the personal choice of the recipient.
Packaging Ideas for Presenting Orange
Oranges can be packed in a basket/box. Use colorful shredded paper filling to make the base of the orange box/basket. Place the oranges and other accompaniments on top of the base and add paper fillers in between the oranges in order to fit them firmly. For more details on making an orange basket, refer to the article on "how to make a fruit basket gift of nature and health".
Gift orange to those who love to eat citrus fruits! Decorate the gift properly and it will not fail to impress the recipient.
Image credits : sendgiftexpress.com
Gift Orange: How To Tips & Ideas