Gift Cheesecake : How to Tips & Ideas
4 Aug 2011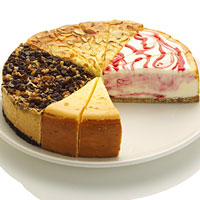 It is a great idea to gift cheesecake to friends and relatives on any occasion. These will be ideal for occasions like weddings, birthdays, showers, and anniversaries. An assortment of different types of cheesecakes can be gifted to lend variety.
How to Choose the Best Cheescake to Gift
You must find out the preference of the recipient and buy the cheesecakes accordingly. In case you do not get to know about the choice of the receiver, you can buy a sample of the confections you are considering. Cheesecakes are either baked or unbaked. They are available in different flavors. To make sure that you gift the highest quality cheesecakes, you must buy them from reputed confectioneries.
Ways to Gift Cheesecake
There are many ways in which cheesecakes can be gifted to delight the receiver.
A platter of different flavors of cheesecake can be gifted.
Those who love chocolate will be pleased to receive a platter of choicest chocolate-flavored cheesecakes.
Instead of buying cheesecakes from a confectionary, you can make them at home and then gift. For more information on how to make a cheesecake at home, refer to the article on "cheesecake". Cheesecake toppings, such as chocolate, fruits, fruit sauces and nuts can be packed along with.
Cheesecakes decorated with heart-shaped candies, or heart-shaped chocolates and a personalized message are a great gift for some romantic occasion. 
Packaging Ideas for Presenting Cheesecake
Cheesecakes can be packed individually in a decorative box. Colorful ribbons and trinkets can be added on top.
If you are planning to make a basket of different varieties of cheesecakes, you must first buy a nice basket and lay shredded paper or colorful napkins as its base. Arrange cheesecakes on top of the paper and then seal the gift basket using a heat-sealable plastic gift wrap. Secure the wrapping sheet using some colorful ribbons or hot air supplied from a blow dryer. Decorate it with bows and add a gift tag.
You can use your own creative ideas or add a personal touch in order to gift cheesecake. They make perfect gifts for any occasion and these gift baskets are appreciated by one and all.
Image credits : gourmetgiftbaskets
Gift Cheesecake : How To Tips & Ideas