Gift Popcorn: How to Tips & Ideas
3 Aug 2011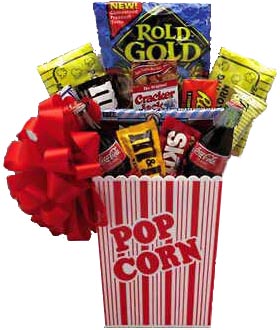 People of all ages love popcorn. Gift popcorn on occasions like kids' birthdays, bachelor's party or a house warming party. Popcorns are served either salted or in the sweetened form. The preference differs from one person to another. Find out the personal choice of the recipient and add the stuff accordingly.
How to Choose the Best Popcorn to Gift
There are several different varieties of popcorns to choose from.
Butter Popcorn – the most commonly available popcorn are butter popcorn which include butter and salt. Avoid adding them if the gift is meant for a diet-conscious person.
Cheddar Popcorn – Cheddar popcorn contains very little salt and butter. The major topping here is cheddar cheese or some other type of cheese sometimes. Cheddar is the most popular cheese topping for popcorn so far. Another variety, white cheddar popcorn is equally popular.
Caramel Popcorn – Caramel popcorn is yet another popular flavor of popcorn. After the popcorn is baked, a fresh batch of caramel is sprinkled on its top. As soon as the caramel melts, a tasty side dish or dessert is ready to be eaten. It is commonly sold at movie theaters and events. It is the perfect choice for those who have a sweet tooth.
Wild Spice Popcorn – these are very spicy. Those who love to eat spicy food and snacks will like them.
Ways to Gift Popcorn
Popcorns can be gifted in colorful boxes. A bottle of coke and a few movie CDs will be perfect accompaniments.
You can make popcorns according to non-traditional recipes, such as popcorn muffins, caramel popcorn, or pizza flavored popcorn, at home and then gift.
You can add some popcorn seasonings. For more information on which particular seasonings can be added and used to add flavor to popcorns, refer to the article - season your popcorn the interesting way.
Packaging Ideas for Presenting Popcorn
Popcorn can either be gifted in a box or a basket. Packets of unpopped corns may also be added.  They can be wrapped in satin fabric before being placed in a box/basket. This will add a touch of elegance. Popped popcorns can also be packed in a decorative fabric pouch or colorful plastic containers. Fancy ribbons or some trinkets can be used to decorate the gift. Include a gift tag for remembrance when you gift popcorn.
Image credits : mailflowers.com
Gift Popcorn: How To Tips & Ideas