Gift Meat: How to Tips & Ideas
31 Jul 2011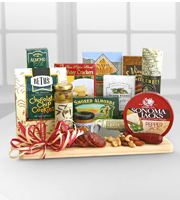 You can choose to gift meat to those who are fond of non-vegetarian food. Decide the budget of your gift beforehand, so that you can arrange it accordingly. Before buying meat for the basket, keep in mind the preferences as well as the dietary restrictions of the recipient, if any.
How to Choose the Best Meat to Gift
There are several varieties of meats to choose from. Buy usual meats or premium meats, such as fire-roasted salmon pate, or others. Just make sure that you end up buying the best quality meat for your gift. For further information on how to buy good quality meat, refer to this article how to buy meat.
Ways to Gift Meat
Wine lends a romantic feel to any gift and they go together well with meat too. Add a bottle of white or red wine. Other complementing snacks, such as bagel chips, gourmet crackers, and bread sticks can be added.
You can make  a platter of assorted meat and gift it.
You can make meat recipes, such as Moussaka, lamb curry, or beef stroganoff and gift them away.
If you choose meats which are perishable, seal them and store them in the refrigerator till the last minute. Assemble the meat in the basket/box and add meat when you are just about to step out from the house. Let the recipient also know that the meats must be kept in the refrigerator so that they do not expire. Alternatively, you may add canned or preserved meat that do not ruin and need refrigeration until opened.
Packaging Ideas for Presenting Meat
Choose a durable gift box/basket to pack the chosen varieties of meat. For more ideas on making the perfect meat gift basket, read my other article meat gift basket ideas.
When you gift meat, it is safe to include a gourmet assortment of meats which are liked by almost everyone.
Image credits : sendflowersusa.com 
Gift Meat: How To Tips & Ideas