Gift Apple: How to Tips & Ideas
31 Jul 2011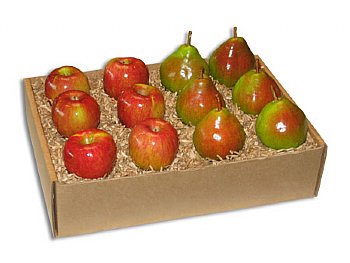 If you are searching a gift for a diet conscious person, or to say get well soon to someone who is recovering from an illness, you must gift apple. Apples are a healthy and tasty fruit. Read this article for tips on choosing the right kind of apples and the ways to pack them to gift them away.
How to Choose the Best Apples to Gift
Make sure that the apples you choose to gift do not have any bruises and blemishes. Buy fresh red apples to make an exotic gift. Green apples can be purchased if the receiver likes slightly sour apples. Be careful while buying apples. Do not end up buying artificially waxed apples. To test whether the coating is natural or synthetic, use your hands to rub an apple. If it leaves whitish powder on your palms, it is natural wax. In case you see a thin layer being peeled off upon scratching an apple, it is most likely coated artificially. Artificially coated apples are usually very glossy.
Ways to Gift Apples
You can gift either raw apples or canned apples. If planning to gift canned apples, you can choose to  can them at home or readymade canned apples can be purchased from a supermarket. It all depends upon your convenience and recipient's choice.
You can make an apple fruit platter to gift to a friend.
You can prepare an apple dish, such as apple pie or caramelized apples at home and gift them.
You can gift apples as a part of a fruit gift basket as well. For more ideas on making the perfect fruit gift basket, refer to this article how to make a fruit basket gift of nature and health.
Packaging Ideas for Presenting Apples
Apples can be packed in designer and colorful cloth bags.
A wicker basket or a box can be used for packing apples. Colorful shredded paper can be used as the base. Apples can be arranged on top.  The apples must be placed carefully so that you do not end up ruining them. 
You require little effort for packing apples at home. You can use your own ideas to pack and gift apple. The gift packs are readily available in the market too. But those sold in the market are expensive and restricted in choice.
Image credits : rainycity.com
Gift Apple: How To Tips & Ideas