Gift Olive Oil: How to Tips & Ideas
29 Jul 2011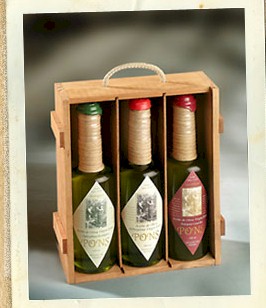 Gift olive oil to those who love Italian food. Olive oil comes into use in several forms while cooking Italian food. It is used for making salad dressing, dips for bread, and almost every Italian dish. Some complementary products and new recipes where it is used can be gifted along with it.
Ways to Gift Olive Oil
Olive Oil Dips
Olive oil, when mixed with the right spices, makes up for an excellent base for dips. So, it is a great idea to add a dipping basket along with the dipping seasonings. Choose the dipping bowl that complements the personality of the recipient. Packaged dipping seasonings would be easy to gift. You may add Parmesan cheese, tomato basil and red pepper as they all go well with the oil.
Gifting Olive Oil Recipe Book
Along with the bottle of olive oil, add a cookbook of olive oil recipes. If the recipient loves to cook Italian food, the gift will be greatly appreciated.  You may bookmark a particular recipe in the book which you feel the recipient may like.
Add Multiple Oils
When you want to gift olive oil, gift other varieties of oils too which are frequently used in cooking. A bottle each of basil, lemon, Greek, or chipotle oil will allow the receiver to make a uniquely flavored new dish each day.  
Add Pasta
Olive oil is used while making noodles or pasta so as to prevent them from sticking to one another and improve the flavor. Thus, a bottle of flavored extra virgin olive oil can be a great gift for pasta lovers. It may be gifted along with unique shaped pasta such as bow ties, or shells.
Packaging Ideas for Presenting Olive Oil
Olive oil bottles can be decorated with a bow, placed in a stand and gifted away. Alternatively, they may be arranged in a basket. For this, you can take a simple wicker basket and add a napkin, hand towel, or shredded paper as its base. Add the bottles of olive oil along with other accompaniments on top of the base. For more tips and ideas on making the perfect olive oil gift basket, refe to my other blog olive oil gift basket ideas.
Use other creative ideas to gift olive oil in such a way that the recipient remembers the gift forever.
Image credits : bunrattyfinefoods.com
Gift Olive Oil: How To Tips & Ideas